British native dog breeds stage comeback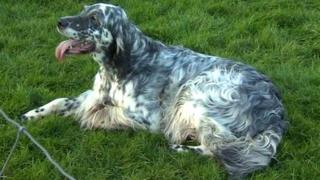 There has been a revival in the popularity of many British dog breeds, according to new figures.
Native breeds have been in decline, as owners turn to exotic types such as the Siberian husky and the chihuahua.
But statistics from the UK Kennel Club show that several native varieties appear to be staging a comeback.
The English Setter, which had been on the list of vulnerable breeds, saw puppy registrations climb by some 34% last year.
This once popular working dog, known for its intelligence and good temperament, appeared on the list for the first time last year, based on figures from 2011.
The number of new Setters recorded has now gone from 234 to 314, meaning it has now been moved from the "vulnerable" category to the Kennel Club's "At Watch" list, for breeds that have between 300 and 450 registrations.
Fran Grimsdell, who breeds the dogs, said: "The number of people enquiring about English Setters, who would never have previously considered the breed, has increased in the last year.
"English Setters need company and cannot be left alone for long periods but they are marvellous with children and make such wonderful family pets."
The Old English Sheepdog, famously used in adverts for Dulux paint, recently entered the At Watch list, but also saw a modest (7%) increase in popularity last year.
Caroline Kisko, the Kennel Club's Secretary, said: "Everybody is talking about the post Olympic baby boom but perhaps the celebration of our British heritage in 2012 has helped lead to a revival of some of our native breeds.
"Fashion and profile have the most influential impact on dog choice and we are pleased to see there is still a place in people's hearts and homes for our British vulnerable breeds.
"Many are still at risk but there has been significant improvement in some breeds."
Other British breeds which increased in popularity last year include the English toy terrier, which saw a 25% rise to 126 puppy registrations, and the Sussex spaniel, which increased by 29% to 74 registrations.
But the news wasn't so good for some endangered native breeds. The Otterhound and the Skye Terrier (the breed featured in the well-known children's story Greyfriars Bobby) each recorded fewer than 50 puppy registrations in 2012, with little change on the previous year. These breeds along with others are considered to be at risk of extinction.
The Smooth Fox Terrier's popularity fell by 46% to just 94 registrations and the Clumber Spaniel saw a drop of 56% to 151 puppies recorded.
The UK's most popular breed is the Labrador retriever, with 36,487 registrations last year, followed by the Cocker Spaniel and the English Springer Spaniel.
The Smooth Coat Chihuahua is the country's 17th most popular dog, but has seen extraordinary increases in registrations in recent years.
Paul.Rincon-INTERNET@bbc.co.uk