Grass-feeding butterflies 'thrived' in 2012 washout summer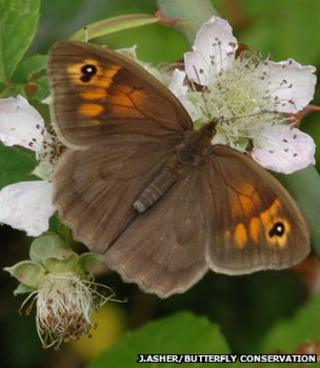 Despite 2012 being the UK's second wettest year on record, a number of butterfly species enjoyed a bumper year, a study suggests.
Overall, the survey showed last year was a washout for UK butterflies.
But grassland species, such as the meadow brown, ringlet and gatekeeper, benefitted from "substantial grass growth" in the wet conditions.
Recorders counted more than 18,500 meadow brown butterflies - almost twice as many as in 2011.
"I was totally staggered that we had that many meadow browns," said Zoe Randle from Butterfly Conservation and co-ordinator of the Wider Countryside Butterfly Survey (WCBS).
"I had to double check the figures as I thought 'can that be right'?"
Results from the survey, which involved counting species spotted in 700 1km-square grids across the UK, recorded 18,629 meadow brown (in 2012, compared with 9,736 during 2011.
Other species to do well included the gatekeeper, ringlet and marbled white.
Butterfly Conservation experts suggested that the dry start to the year followed by the wet weather provided optimum conditions for bumper grass growth, providing certain species with abundant supplies of their favoured food sources.
But Dr Randle added: "As far as I am concerned, it is new to me that you could have such a dismal summer yet these species do so well.
"Typically, you imagine a nice, warm sunny day and butterflies out flying around, laying their eggs.
"These butterflies were out and about and being counted, but what's happened to the eggs that were laid? Who knows? We'll have to wait and see what happens this year."
Unprecedented conditions
Overall, the poor summer took it toll on UK butterflies, with 43% fewer species on average being recorded that during the 2011 WCBS survey, which is run by Butterfly Conservation, the British Trust for Ornithology (BTO) and the Centre for Ecology and Hydrology (CEH).
The WCBS, which began in 2009, complements other national butterfly surveys - such as the UK Butterfly Monitoring Scheme - and aims to "more effectively monitor the changing abundance of widespread butterfly species across the general countryside".
The common blue was among the species worse affected, with just 269 sightings compared with 748 during the previous year.
Dr Randle added that the sharp decline in common blue numbers followed on from a decline in previous years' surveys.
She suggested it was likely that the impact of last year's wet summer will have repercussions this year.
"If butterflies are not out and about feeding, breeding and laying their eggs, it does not bode well."
Dr Randle added that she could not recall a summer that wet before, making it difficult to fully understand whether the conditions would have a lasting impact on particular species.
"We think this would be a short-term blip but if the terrible summers continue then it could have longer term implications," she explained.
"The weather obviously has a big implication on our butterflies but on top of that you have got things like agricultural intensification, habitat destruction and that sort of thing.
"All those factors combined with bad weather are going to have even more of a detrimental effect."