US festival snap picks up best satellite image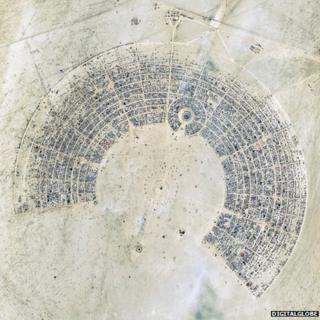 An image of the Burning Man Festival in the US has won an online vote for one company's best satellite image of 2012.
Satellite imaging firm DigitalGlobe invited Facebook users to choose its best image of last year.
The annual event held in the Black Rock Desert, Nevada, celebrates music, art and self-expression.
The picture was taken on August 28, 2012, by the WorldView-2 satellite and shows tents, vehicles and people gathered in the desert.
A much-fancied image showing cloud cover over Mount Fuji was edged out in the second round of voting.
DigitalGlobe encouraged users to vote on 20 of its images from the past 12 months. This was whittled down to a shortlist of five in December.
The other shortlisted satellite images were of a volcanic chain in the Andes mountains of Chile, a picture that captured the space shuttle Endeavour travelling on the back of a 747, and a photo of the land sculpture known as "The Lady of the North" in the UK.
The market for sub one-metre satellite imagery has been dominated in recent years by DigitalGlobe and GeoEye.
The former acquired its long-term competitor GeoEye this year, in a deal worth £280m (US$453m).
A French high-resolution imaging satellite, named Pleiades, was launched in 2011. Its manufacturers expect it to go head-to-head with DigitalGlobe in the satellite imaging market.