Gemini telescope catches 'Orion's Bullets'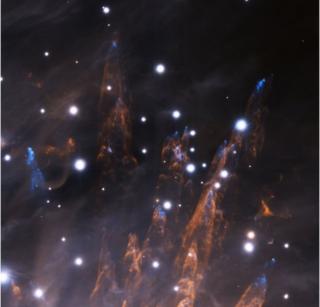 An astronomical feature called "Orion's Bullets" has been imaged in stunning detail by a shape-shifting optical system on Chile's Gemini telescope.
The picture, unveiled at the 221st American Astronomical Society meeting in the US, demonstrates the power of what is called adaptive optics.
It uses lasers shot skyward and mirrors that are changed in shape to perfectly image the lasers' spots on the sky.
This undoes the effects of the Earth's atmosphere, making for sharper images.
The Gemini South telescope now has five of these "laser guide stars" and a new type of adaptive optics that provides a wider field of view.
The system, called Gems, was first proposed some 10 years ago, and has just been put through its paces, trained on the Orion Nebula.
"There's a popular notion in the astronomy community that if you're commissioning a new instrument the first object you need to observe is Orion," said Peter Pessev, Gemini science fellow at the observatory.
The Gems team focused on Orion's Bullets, enormous jets of gas ejected from the nebula's centre, where copious star formation is going on and driving winds of material outward.
The image was just a showpiece for what the telescope will now be able to achieve, Dr Pessev told the meeting.
"From an engineering point of view, this new system is a great achievement, and we're really excited because this is going to open a whole new parameter space in... the entire range of topics that are studied in modern astronomy," he said.