Wind power deadline sees US firms rush to build turbines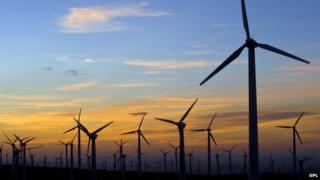 US energy companies are racing to install wind turbines before a federal tax credit expires at the end of this year.
Experts say that wind power has exceeded the construction of natural gas plants in recent months.
However the financial incentive for wind could be lost as congress struggles to avoid financial deadlock.
Even if the credit is extended it is expected that new installations will decline in 2013.
According to industry analysts, the federal government's production tax credit has played an important role in the expansion of wind energy across the US since it was first introduced in 1992.
Wind passes gas
At that point there was less than 1.5 gigawatts of power generating capacity provided by wind across the country. That figure has grown dramatically. This year has seen around 12 gigawatts of wind power capacity installed, outpacing even natural gas projects which have boomed on the back of cheap shale.
The government subsidy works out at 2.2 cents per kilowatt hour of power produced over ten years. This amounts to around $1m (£620,000) for every large turbine. However the deadline is absolute - to get the money the blades on new installations must be turning and generating power before the 31st of December.
"There's a lot of rushing right now to get projects completed by the end of the year," says Rob Gramlich, senior vice president at the American Wind Energy Association.
"It is not a great way to run a business with this policy-induced uncertainty."
The tax credit has proved contentious with some lawmakers criticising it as too generous. It lapsed previously in 1999, 2001 and 2003. Each time it led to a collapse in new construction.
The American Wind Energy Association are hoping the tax credit will be passed as part of a compromise package of legislation to help the US avoid the so-called fiscal cliff. The say the most likely outcome is a short term extension of the subsidy.
"There's a good chance we could get this extension, it is very hard to predict, but the industry is not making bets on the Congress getting it done," says Mr Gramlich,
Even if there is an extension there is likely to be a significant curtailment of wind installations in 2013. Wind energy companies say they need longer time frames to negotiate deals to sell the power they generate.
Iberdrola Renewables is the second largest developer of wind power projects in the United States. The company is racing to finalise new wind installations in Massachusetts and New Hampshire.
However the prospects for new turbines in 2013 are slim according to Paul Copleman, communications manager for Iberdrola.
"Even if the tax credit is extended, our new construction plans likely will be ramped back substantially in 2013 compared with the last few years. So much time has passed without certainty that a normal one-year extension would not be a game-changer for our 2013 build plans."
Some analysts argue that all subsidies to wind should end and the industry should stand on its own two feet. They say that the current arrangements mean that energy companies continue to make money even when there is a surplus of wind and the market price is negative.
Dan Kish is with the Institute for Energy Research, a body long critical of subsidies for renewables. He told BBC News the extension of the tax credit was expensive, unnecessary and destabilising to the electricity grid.
"Wind produces power at a fraction of its stated capacity, and is increasingly adding unnecessary costs to consumers, just as it is in the UK," he said
"They are creations of government and serve only to make their builders and owners wealthy at the expense of the public."
Follow Matt on Twitter.