Animal test ban favoured by a third in BBC poll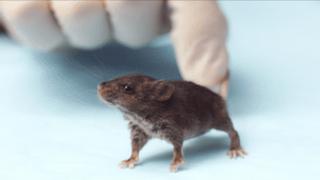 Almost one in three (31%) adults say the government should ban all medical research experiments on animals, according to a poll.
The poll, on indications of public attitudes to animal testing, was commissioned for BBC Radio 5 Live.
Some 70% say scientists should be able to use mice to research conditions like diabetes or Alzheimer's.
ComRes interviewed 1,000 adults by telephone between 30 November and 2 December 2012.
The findings of the ComRes telephone poll suggest that people's views on the use of animals for medical experiments vary, depending on which animals are involved.
More than half of those questioned (56%) said they were more comfortable with the use of mice for research into diseases than they were with the use of cats, dogs and monkeys.
Mice are used by scientists to research causes and treatment of various diseases, due to the similarity of their genetic make-up to that of humans.
Legal licences
The latest Home Office figures show that nearly 3.7 million (3,685,127) animals were experimented on in UK labs in 2011, of which nearly 2.7 million (2,663,441) were mice.
The remaining million were mainly other rodents, birds and fish, but included 153 cats, 2,865 dogs and 1,459 monkeys.
Animal testing for medical research can only be carried out if appropriate licences have been granted by the Home Office, when certain criteria are met.
The use of animals in scientific procedures is regulated by the Animals (Scientific Procedures) Act 1986, which requires three licences - one for the person doing the research, one for the location and one for the project.
You can hear the Victoria Derbyshire programme live at 10am on Tuesday, 4 December on BBC Radio 5 live, after which it will appear on iPlayer.