Floods: how much can new barriers help?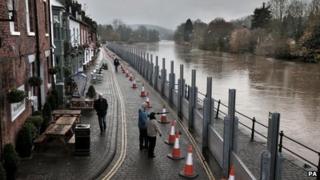 Since the momentous floods of 2007 there has been major spending to protect people from rising waters.
If you are one of the 40,000 householders who has benefited, you're probably reading this in the dry.
Flood protection was due to extend much further, but the government cut back the number of schemes to save public finances; it's a decision the prime minister will be pressed to re-examine.
Of the projects already built, the £45m Nottingham Left Bank Scheme is the biggest.
It stretches 27km (16 miles) across Nottingham travelling alongside a railway line, and through a nature reserve. It has protected 16,000 homes and businesses, as well as roads and factories.
New schemes like this have been operating across the country.
Some are using a new technique called trench-mix in which the earth is mixed with cement to form a water-resistant barrier without needing the usual deep sheet steel foundations.
A trenching machine has been modified to inject grout into the soil to a depth of 10m (30ft).
In other places barriers are temporary.
At Bewdley in Worcestershire, for instance, it took 12 Environment Agency staff five hours to erect barriers 270m long and nearly 6m high. These have been needed seven times in the last six years.
Other schemes built since 2007 include those in Carlisle, Truro, Teignmouth, Horsbere in Gloucestershire, Redcar, and Wyke Beck near Leeds.
We have to keep the current situation in perspective. So far in the latest flooding, about 900 homes have been inundated.
In 2007, 55,000 homes were swamped, causing £3bn worth of damage. And in 1952, 34 people were killed in a single flood in the Devon town of Lynmouth.
'Atmospheric rivers'
Floods are still devastating for people affected today - but the good news is that there aren't nearly so many of them. The bad news is that more of this sort of rain is expected as the climate changes.
This is the wrong sort of rain, a slow deluge that overwhelms drains and pours down streets.
The rain in itself is not exceptionally heavy but it has been very slow-moving.
The University of Reading says it is coming in the form of atmospheric rivers - narrow bands of atmospheric moisture, thousands of kilometres long, transported by the wind.
More of this sort of rain is expected along with shifts in Atlantic circulation patterns.
Some academics have started to warn that it will not be realistic for government to protect homes in the way people expect.
Alan Werrity, former Director of Dundee University's Centre for Research on Water, told BBC News that people at risk of flooding should install hard floors, raise plug points, keep their treasured possessions out of reach of the water - and not place total reliance on the government.
It doesn't help that people keep paving over gardens that would previously have helped soak up the water - rules on that have not been effective.
Farmers have cultivated their land in a way that encourages water to rush off the fields instead of soaking into the ground. And developers are still building on flood plains, albeit less than before.
The UK will face more floods. We need to be prepared - and stop making things worse.
Nottingham Left Bank Scheme
27km route of the Left Bank Scheme is the biggest inland flood defence scheme
Cost £45m to build and protects 16,000 homes and businesses
Follow Roger on Twitter @rogerharrabin