Ariane rocket ready to do battle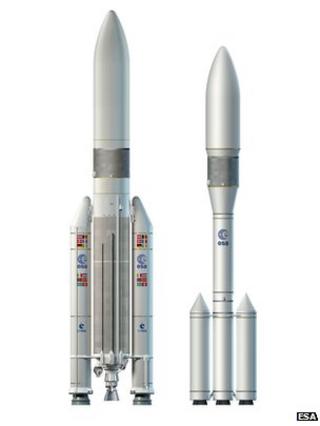 Europe's Ariane 5 rocket has established itself as the dominant force in the satellite launch market.
The big European vehicle throws up everything from three-tonne TV satellites to the 20-tonne ATV space truck used to resupply astronauts on the ISS.
Half of the major telecommunications platforms lofted every year ride the European battlehorse.
But as good as it is, Ariane is under pressure. Competitors are circling and changes are needed if the vehicle is to retain its benchmark status.
We got a glimpse this week of where the rocket is heading after research ministers approved a 600m euros programme of developments at their European Space Agency council meeting in Naples.
Work will continue to give Ariane 5 a major upgrade, to provide it with a more powerful upper-stage engine that will also have a stop-start capability.
These modifications will enable the vehicle to better optimize its payload capacity for heavier, more lucrative satellite customers - and also to offer a broader range of orbits to those clients.
This Mid-Life Evolution (ME), as it is known, is now scheduled to fly in 2017/18.
But ministers have not stopped there. At the same time, they want to see detailed studies to define the next generation rocket - an Ariane 6.
Early thinking is that this will be a smaller rocket than Ariane 5 with a modular design capable of lifting one satellite at a time weighing from three to 6.5 tonnes.
A final pronouncement on whether to proceed with the project is likely in 2014. A maiden flight could occur in 2021/22.
The Esa ministerial council outcome was warmly welcomed by Jean-Yves Le Gall, the man who heads up Arianespace, the commercial operator of Europe's big rocket.
"It was a great success," he told me. "Now we have a shining future. The most important consequence of the ministerial decisions is that our vision is now much further forward than it was before. Before we had just to launch Ariane 5. Now we have a reason which is launching Ariane 6 in 10 years' time, and I can tell you we have a lot of young people here who are very excited."
There's been a lot of fuss recently about the impact that aggressive competitors will have on Ariane's market share.
You may have seen my interview last week with SpaceX chief executive Elon Musk where he said Ariane 5 had "no chance" in the face of his new Falcon 9 and Falcon Heavy rockets. The European vehicle could get nowhere near his prices, the entrepreneur contended.
Certainly, there've been plenty of people queuing up to echo the voice of doom on Ariane. French politicians, for example, who visited the SpaceX factory in California came away wanting a direct move to Ariane 6. The successor vehicle is expected to incorporate much cheaper components and fabrication methods than the current rocket, or indeed Ariane 5ME.
But Le Gall calls for cooler heads. Ariane 5 is not about to fall away. The rocket has a proven track record of reliability, and in the launch business that is everything.
"Some of our competitors, for instance Proton, are suffering almost one failure every year, which is huge. And I want to remind people that behind us we have 52 successes in a row.
"And there are other competitors, such as SpaceX, who speak a lot but have not yet launched a lot, and I think if you really want to exist in this business you must be very humble because it's a difficult business, and in my opinion you can only really speak when you have an excellent track record."
Le Gall accepts that Ariane 5 is pricey, but says he has fulfilled his commitment to constrain price by reducing the cost of operating the vehicle's spaceport in French Guiana by 20%.
But there is no magic formula that will reduce the industrial cost of producing the existing Ariane 5.
Unlike the SpaceX Falcons which are made in one place (more than 70% of a vehicle by value is made in the single factory), Arianes by definition are made across Europe. A dozen countries are involved in the Ariane 5ME project. This community approach must change long-term, and it is likely that the Ariane 6, when it arrives, will have an industrial base pretty much confined to France and Germany.
That may well offend some Esa member states but it's a fact of life that research ministers will have to grapple with when they gather again in 2014 to pronounce on the next phase of Ariane 6 development.
They should also have a clearer idea then of what this rocket should look like. It seems obvious, but Esa director general Jean-Jacques Dordain has been asking satellite operators precisely what they want.
"I've asked them, 'what is the launcher that you dream of?'; and they've given me their dreams," he told reporters in Naples.
"What I wish to do now is tell the launcher industry in Europe, 'OK, can you now fulfil the dreams of the customers?'.
"The customers want, obviously, the most reliable vehicle in the world - and at least on that, Ariane 5 is much more reliable than a lot of other vehicles. They want a launcher that is available, and that will launch between 3-3.5 tonnes and 6-6.5t. And, number four, they want a rocket that is cheaper than Proton and Falcon 9. This is the cahier des charges (specification base)."