Space spending to be increased by £60m a year
By Pallab Ghosh
Science correspondent, BBC News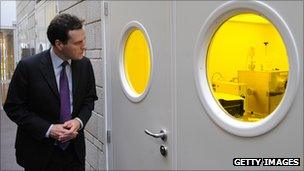 Chancellor George Osborne has increased spending on space technology by £60m per year over the next two years.
The investment is part of a plan to increase the UK's contribution to the European Space Agency.
The government hopes this will attract more hi-tech jobs and contracts to Britain.
Overall spending in civil research has, however, declined by 5% in real terms since 2010 - a reduction which is set to continue.
Mr Osborne made the announcement in a speech to the Royal Society, calling for a national debate on where the UK can lead the world in scientific excellence.
The European Space Agency (Esa) investment will lift UK's contribution to the Paris-based organisation by an average of 30% at a time when many other nations are struggling to meet their contributions or even reducing them.
By increasing its contribution, the expectation is that the UK will get more research contracts in return and this will increase the competitiveness of British space companies, enabling them to win future orders in what is a growing global market for products and services.
Recent data have shown that the UK space industry recorded a total turnover of over £9.1bn in 2010/11, representing an average annual growth rate of 7.5% since 2008/09.
While other sectors have shrunk during the recession, these figures gave Science Minister David Willetts powerful ammunition to persuade the Treasury to back space as a key sector for further growth.
"We have underestimated the strength of our space industry," he told BBC News. "In fact, we are a global player in satellite and telecommunications technology. This additional investment is a signal to Esa and commercial companies that we are going to continue to support space science and technology."
Sir Martin Sweeting, the executive chairman of Surrey Satellite Technology Ltd, which specialises in manufacturing small spacecraft, welcomed the chancellor's announcement, saying: "The UK space industry is a world leader and has been one of the fastest-growing parts of the economy over the past decade.
"Today's announcement will help to maintain the UK's lead in this rapidly growing market."
The commitment to Esa will see the agency base its satellite telecommunications headquarters in the UK, expanding its recently opened technical centre in Harwell, Oxfordshire.
In his speech, Mr Osborne set out seven further areas where the government thinks Britain is a world leader and can and must go further: computing, synthetic biology, regenerative medicine, agricultural science, energy storage, robotics and advanced materials including nanotechnology.
The chancellor said he believes science is important in helping to rebalance the UK economy.
Imran Khan, director of the Campaign for Science and Engineering (Case), said he was pleased to see that Mr Osborne was taking such a close personal interest in science.
"The commitment to new spending on scientific infrastructure is important, as part of the UK's push to be a modern, high-tech economy," he said.
"We hope that George Osborne carries on and turns this commitment into a sustainable, long-term one, along with addressing the cut that inflation has made in the 'flat cash' settlement. Using the £4bn revenue from the forthcoming 4G spectrum auction provides the perfect opportunity to do this, as we and Nesta have called for in our 4Growth report."
Funding for civil research has however been frozen since the chancellor's autumn statement in 2010.
In real terms, the science budget is being cut by 2.5% each year and in two years' time will have been reduced by 10% relative to 2010.
The chancellor also slashed capital spending by research funders by 41% - the money for maintenance and upkeep of the UK's labs and equipment. The cut of £1.6bn has been slightly clawed back by Mr Willetts, who has persuaded the chancellor to set up new research institutes, such as a graphene centre and a computer hub announced last year.
Scientific bodies want to encourage Mr Osborne to continue to spend more on science and so are publicly supportive.
But privately, many are concerned that an ever-shrinking pool of funding has to be spread ever thinner on research areas that catch the eye of the chancellor and science minister at the expense of fields that are less politically appealing but nonetheless important for the UK's science base.
Some are wondering whether this tactic will see a shift away from the time-honoured tradition of allowing scientific experts to decide how research funding should be spent, the so-called Haldane Principle, and back toward an ill-fated attempt by the Labour Party in the 1970s to "pick winners".
Commenting on George Osborne's speech, Shadow Minister for Science and Innovation Chi Onwurah MP said: "In 2010, the Tory-led government pledged to protect science spending, given its importance to future growth and rebalancing the economy, but they have broken their promises.
"Departmental science spending fell by 7.6% in the first year of this Parliament alone and total spending on science last year is down by 6.4%. If the reduction continues at this rate, science spending will be down by a quarter over the life of the Parliament."
Liberal Democrat peer and member of the House of Lords Science and Technology Committee Lord Willis said: "To listen to a well-informed and pro-active speech from the Chancellor is warmly welcomed.
"The challenge now is to back his eight technology transfer priorities with significant new resources - otherwise we will fail to meet the challenges he has rightly identified."
That was a view echoed by the President of the Royal Society, Sir Paul Nurse who jokingly said it was now time for Mr Osborne to "put his money where his mouth is" after the Chancellor had finished his speech.
Related Internet Links
The BBC is not responsible for the content of external sites.