Ash trees burned by Perrie Hale Nursery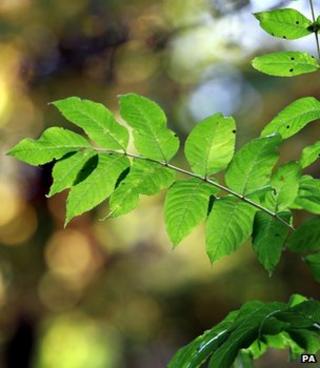 A Devon nursery specialising in woodland trees and shrubs has burnt 7,000 ash trees because of concerns about ash dieback.
Perrie Hale Nursery near Honiton said it had seen no sign of the disease.
It said the trees were burned "to ensure that we do all we can to ensure the sale of strong healthy saplings for planting".
Dieback has been confirmed at 115 sites with Norfolk, Suffolk, Kent and Essex among the worst affected.
'Every precaution'
Nick Davey of Perrie Hale said: "Thankfully we are free of the disease and we are doing all we can to keep it that way.
"We have got to take every precaution so we can sow seed in the spring and start anew."
Some scientists warn the outbreak has the potential to devastate the UK's population of 80 million ash trees.
Dieback, caused by the Chalara fraxinea fungus, was first recorded in eastern Europe in 1992 and spread over two decades to infect most of the continent.
The first confirmed case in the UK was recorded at a nursery in Buckinghamshire back in March.
Researchers said the affected trees in woodlands in Norfolk and Suffolk were likely to have become infected as a result of coming into contact with Chalara fraxinea spores that had been blown over from mainland Europe.
The majority of confirmed cases have been recorded at nurseries or sites where young ash trees had been recently planted.