Climate change makes late surge in US elections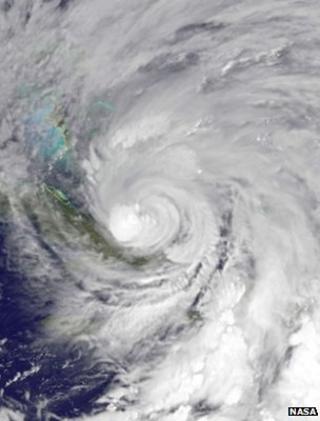 In the wake of Storm Sandy, New York Mayor Michael Bloomberg has endorsed President Obama, saying he is best placed to tackle climate change. But is that the case? BBC Environment Reporter Matt McGrath looks at the climate policies of both candidates.
For the vast majority of this presidential election campaign, the phrase "climate change" has been marked only by its absence.
In the three debates between President Obama and his republican challenger, Mitt Romney, the issue wasn't discussed once.
The president has long been an advocate of action on climate. After his election in 2008, he promised a new chapter in America's leadership on climate change.
"Denial is no longer an acceptable response," he said.
The president promised to reduce emissions of carbon dioxide by 80% by 2050 and to invest about $150bn (£96bn) in green technology.
The centrepiece of his programme was to be a cap-and-trade bill.
Road to Copenhagen
But the realities of governing meant the president had essentially to choose between healthcare reform and his climate legislation - he went with healthcare. The cap-and-trade bill died in the Senate.
President Obama did attempt to give global leadership on the climate issue, by attending the UN's Copenhagen climate summit in 2009.
Despite his best efforts to forge a consensus between developed and developing countries, the resulting Copenhagen Accord was weak and ineffectual.
President Obama has succeeded in improving standards for vehicle emissions and supported green energy investment, but for many people he simply hasn't gone far enough.
Some critics say he lacks clear policies. In a speech in Virginia during the summer, his only reference to the issue was to say that "denying climate change doesn't make it stop."
Mitt Romney, on the other hand, has moved his position considerably. In his 2010 book No Apology - the case for American greatness, Romney wrote:
"I believe that climate change is occurring — the reduction in the size of global ice caps is hard to ignore.
"I also believe that human activity is a contributing factor. I am uncertain how much of the warming, however, is attributable to factors out of our control."
In 2011, he went further, saying he believed action had to be taken to curb CO2 emissions.
Mr Romney said: "I think it's important for us to reduce our emissions of pollutants and greenhouse gases that may well be significant contributors to the climate change and the global warming that you're seeing."
Growing scepticism
However, the Republican presidential candidate's position now is more sceptical, saying he believes there is a lack of scientific consensus on the issue and that he supports more debate and investigation among scientists.
Mr Romney has mocked President Obama's commitment to green causes, saying the president "promises to heal the planet, while I promise to help you and your family".
Both candidates, though, have re-affirmed their commitment to the exploitation of fossil fuels within the US.
In the first debate, Mr Romney declared that he "loved" coal. Both want to extend oil and gas exploration. Governor Romney wants to give states the right to drill on federal lands.
The harsh reality is that neither candidate may achieve very much on the climate issue, despite Michael Bloomberg's hopes.
If President Obama gets re-elected, he may once again not have the political support in Congress to enact legislation.
If Mitt Romney is elected, he shows no inclination for any legislation on the issue and his rhetoric on government regulation would indicate a loosening of current restrictions.
The ironic thing is that no matter who wins the White House, US carbon emissions might continue to fall.
Right now they are at 20-year-low, partly as a result of the economic recession, but also as a result of the wide uptake of shale gas.
The BBC will be providing full online live results of the US presidential election on 6 November. Follow our coverage here