Hurricane Sandy: Thousands of rodents drown at NY lab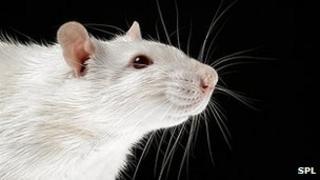 Thousands of lab rodents have drowned after storm Sandy caused flooding at a university centre in New York.
The genetically modified mice and rats were being used to study illnesses such as heart disease, cancer, autism and schizophrenia.
The animal colonies at the Smilow Research Center in Kips Bay were considered among the most important of their type in the US.
Sandy left over 80 people dead in the US, causing havoc on the east coast.
On Monday, medical and research staff at New York University (NYU) had to work hard to protect their human patients - and others threatened by the storm - at its three facilities in Kips Bay in Manhattan.
Although most of the animals were unharmed, teams could not save those in the basement of the Smilow centre.
"The combined tide and wind resulted in extensive flooding in the building, and unfortunately, my mouse colonies were wiped out," Dr Fishell, associate director of the NYU Neuroscience Institute, told the New York Times newspaper.
"These animals were the culmination of 10 years of work, and it will take time to replace them."
He said that his lab alone had lost some 2,500 mice in the flooding. According to estimates from the university, other labs at the Smilow Center lost about 7,500 more animals.
The colonies were genetically altered to carry some of the genetic mutations suspected to contribute to disorders in humans such as high blood pressure, cancer and epilepsy. University officials said that, despite the losses, research in these areas was broad-based and would continue.
The Smilow building was designed to withstand storm surges 20% higher than those historically recorded.
Scientists at two other US research centres have already pledged to donate animals to re-start some of the colonies at the New York facility.
A source told the New York Daily News that power to the building - including emergency power - had also failed during the storm, with the loss of scientific reagents - such as enzymes and antibodies.
The storm cut power from millions of homes and paralysed transport.
Sandy made landfall on Monday night in New Jersey, where some 20,000 people remain trapped in their homes by sewage-contaminated floodwater.
In New York City, the storm brought a record tidal surge that swamped the subway system and caused widespread blackouts.
Earlier, it killed nearly 70 people in the Caribbean and caused extensive crop destruction in impoverished Haiti.