Old English Sheepdog put on breed watch list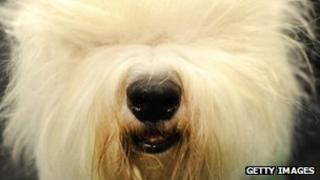 The iconic Old English Sheepdog is being hit by the growing popularity of so-called "handbag dogs" such as chihuahuas, the UK Kennel Club says.
New figures show there were just 316 puppy registrations for the breed so far this year.
A breed is deemed "vulnerable" if registrations drop below 300.
The sheepdog is one of a number of native breeds that are experiencing declines due to the fashion for the chihuahua, pug and Siberian Husky.
It was popularised by the television adverts for Dulux paint in the 1980s and 1990s.
There are 30 vulnerable breeds in total and four on the At Watch list.
Among the most vulnerable breeds are the Field Spaniel with 31 registrations so far this year, the Cesky Terrier with just 25 and the Skye Terrier, with 24.
By contrast, there were 28,787 Labrador Retriever puppies registered last year, making it the UK's most popular dog. There were 2,669 Chihuahuas and 5,496 Pugs registered - both breeds are growing rapidly in popularity.
Bill Lambert, manager of the Kennel Club Assured Breeder Scheme, said the decline in the Old English sheepdog could be partly explained by lifestyle changes.
"It needs a lot of grooming and exercise and so is not suitable for the fast paced urban lifestyles of many people," he explained.
"But it is also a lot to do with fashion. Despite the fact that Old English Sheepdogs have good temperaments and can make fantastic family pets their popularity is being eclipsed by more fashionable foreign breeds that can be much harder to train and care for.
"Of particular concern is the growth in popularity of the Siberian Husky, a beautiful dog which is notoriously willful and generally unsuitable for urban life."
The figures come from Kennel Club statistics for the first three-quarters of this year.
Some native vulnerable breeds have fared well, with the Norwich Terrier seeing the largest increase in numbers in the first three quarters of this year, compared with the same period in 2011. It increased by 96%, from 108 to 202 registrations. The Otterhound has also increased by 57%, from 21 registrations to 33.
The organisation's annual event Discover Dogs is taking place in London on 10 and 11 November, featuring some of the most vulnerable breeds.