Gas flaring targets emerge from London conference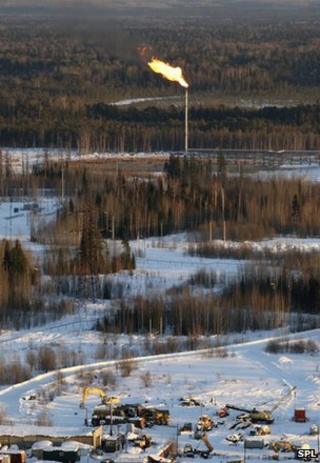 A conference in London on Wednesday has agreed an ambitious target of cutting gas flaring by 30% over five years.
Flaring mostly happens in remote areas where gas at the surface as an oil by-product cannot be brought to consumers.
The World Bank says $50bn (£31bn) in fuel goes up in polluting smoke every year, and that the target represents the equivalent of taking 52 million cars off the road.
Environmentalists have said that flaring should be banned entirely.
The conference convened the Global Gas Flaring Reduction partnership, started by the World Bank 10 years ago, working with both governments and major oil firms.
The World Bank says there have been substantial improvements, with a 40% cut in flaring volume in Russia, and a 29% reduction in Nigeria.
But it says flaring still wastes 140 billion cubic metres of gas a year - equivalent to a third of the annual gas consumption in the European Union. The practice emits around 400 million tonnes of CO2 equivalent.
The partnership has been working to get the gas sold to market, re-injected into the ground or used to make energy at the oil rig itself, with some difficulty given the low economic incentives for oil producers to participate.
It said there needs to be substantial progress in Iraq, Kazakhstan, Mexico, Nigeria and some Russian autonomous regions. Qatar, host of the forthcoming world climate talks in December, is making steps to improve.
The targets set at Wednesday's conference were widely agreed to be broadly ambitious, but another issue is getting some oil-producing nations such as Indonesia and Brazil to join the scheme.
"I think as they are now moving into a phase where their legislation, their companies and their challenges are lining up, they will also be more ready to join the rest of us on this issue," said Hela Norheim of the Norwegian state oil producer Statoil.