Gas flaring target of London conference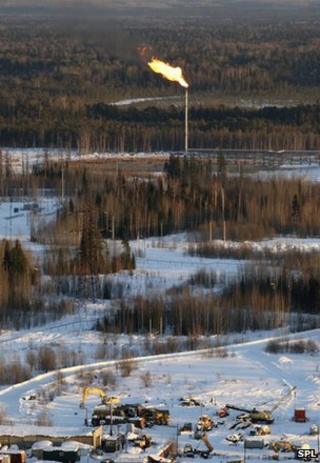 A conference in London on Wednesday aims to press oil firms to reduce gas flaring - the burning of natural gas at oil production sites.
Flaring mostly happens in remote areas where gas at the surface as an oil by-product cannot be brought to consumers.
The World Bank says $50bn (£31bn) in fuel goes up in polluting smoke yearly.
It says countries are starting to clamp down, but should do more. Friends of the Earth says flaring should be banned entirely.
The conference convenes the Global Gas Flaring Reduction partnership, started by the World Bank in partnership with governments and major oil firms 10 years ago.
The World Bank says there have been substantial improvements, with a 40% cut in flaring volume in Russia, and a 29% reduction in Nigeria.
But it says flaring still wastes 140 billion cubic metres of gas a year - equivalent to a third of the annual gas consumption in the European Union. The practice emits around 400 million tonnes of CO2 equivalent.
It is working to get the gas sold to market, re-injected into the ground or used to make energy at the oil rig itself.
It said there needs to be substantial progress in Indonesia, Iraq, Kazakhstan, Qatar, Mexico, Nigeria and some Russian autonomous regions. Qatar, host of the forthcoming world climate talks in December, is making steps to improve, it says.
Kevin Bortz, director for natural resources at the European Bank for Reconstruction and Development admitted that some firms considered it impossible economically to justify collecting the gas from some small remote fields.
Environmentalists have called for all flaring to be banned.
Follow Roger on Twitter