UK faces fine on EU water breach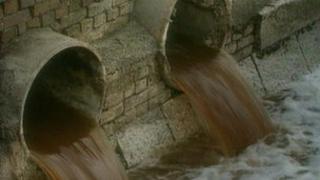 The UK faces fines for breaching EU law on water treatment after plants in northern England and in London dumped raw sewage into waterways.
That is the outcome of a ruling by the European Court of Justice, which has yet to decide what the penalty will be.
Under an EU directive introduced in 1991, Britain was obliged to meet new standards for treating waste water.
The UK said that it had already taken steps to fix the problem and that it was complying with EU regulations.
However, the court in Luxembourg rejected its argument.
"The United Kingdom has failed to fulfil its obligations under (the) directive," the court said.
It said that plants in Whitburn in northern England and in London had dumped sewage in local waterways.
London's sewer system, much of which dates back to Victorian times, discharges raw waste into the River Thames when rainfall overwhelms the 19th Century tunnels.
"So far as concerns the treatment plants of the collecting system for London... their capacity is sufficient in dry weather, but not sufficient in the slightest in the case of rainfall," the court added.
"A member state may not plead practical or administrative difficulties in order to justify non-compliance with the obligations and time limits laid down by a directive.
"The same holds true of financial difficulties, which it is for the member states to overcome by adopting appropriate measures," it said.
London has commissioned a £4bn tunnel project, dubbed the "super-sewer", underneath the Thames, to solve the capacity problem.
But local residents and politicians have raised objections to the cost, which would drive up water bills.
In 2010, the European Commission asked the European Court of Justice to impose a lump sum fine of 15 million euros on Belgium for water violations.