Bird of prey poisonings highlighted by MPs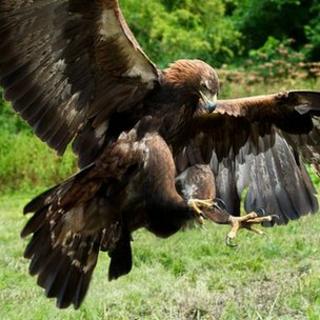 Hundreds of birds of prey are deliberately killed each year with poisons that have no legal use, according to MPs.
The Environmental Audit Committee says confusion over wildlife laws means criminals often escape unpunished.
It is particularly worried about carbofuran, a chemical used by rogue gamekeepers to kill raptors.
A Defra spokesman said it had banned possession of the chemical, but the MPs insist that it has not.
The chemical is devastatingly toxic to birds. A gamekeeper in Skibo, Scotland, convicted of poisoning birds in 2011, was found to have possessed 10kg of the chemical - enough to kill every raptor in the UK by breaking down its nervous system.
The committee learned that there had been 633 reported cases of poisoning of birds of prey, of which half involved carbofuran.
The Department for the Environment, Food and Rural Affairs (Defra) told BBC News that it was an offence to use carbofuran and it expected police to prosecute people possessing it.
But the committee said that in order for this to be legally watertight, Defra would have to make a simple change in existing legislation by entering carbofuran on a list of chemicals banned for possession.
Without that change, the MPs insist, wildlife poisoners could escape the law in England and Wales, though not in Scotland where the change has already been made.
Duncan McNiven, an investigations officer for the RSPB said that in order to match offences with appropriate sentences, the legal situation needed to be clarified.
'Pythonesque' incidents
A committee spokesman said this was typical of confusion over the wildlife laws.
The committee chairwoman, Joan Walley MP, said: "I challenge the government to examine the overwhelming evidence on this and make this simple change by the end of the month."
The committee's list of criticisms is wide-ranging. It found that wildlife legislation is so complex that prosecutions fail, the lack of sentencing guidelines means some offenders are not punished, and the Crown Prosecution Service is failing to train its prosecutors to handle complex wildlife cases.
The MPs also refer to "Pythonesque" incidents as when one police officer was advised to take a vet to examine illegally imported Brazilian Rosewood tables because the poorly-drafted legislation did not specify that a vet was needed only when live animals were involved.
The report also claims that the government's commitment to tackling wildlife crime is undermined because support for specialist wildlife crime investigation is provided on an ad hoc basis.
The MPs are unhappy that in 2004 they called for a new database to record all wildlife crime but this has still not been introduced.
Ms Walley said: "The government's good intentions on wildlife crime are being undermined by tangled administrative arrangements and a lack of coherent long-term planning.
"We are not recommending that they spend more money (on police); we are recommending that they give specialist wildlife police more long-term funding certainty."
Internationally, the report examines how the rhino, tiger and elephant are being driven to extinction by growing demand for illegal wildlife products in south-east Asia and China.
Simon Pope, head of external affairs for the World Society for the Protection of Animals (WSPA), said confusion in the laws and inconsistent sentencing had helped make London a global hub for the $13bn trade in threatened species.
"This is not a few Arthur Daleys down the market selling turtles, this is people with connections to organised crime in Russia, Japan and Colombia."
A Defra spokesman said: "The government takes the issue of wildlife crime seriously. That is why we fund the National Wildlife Crime Unit, who work to bring these criminals to justice. We will consider the committee's recommendations carefully and will respond in December."
Follow Roger on Twitter @rogerharrabin