Galileo: Europe's version of GPS reaches key phase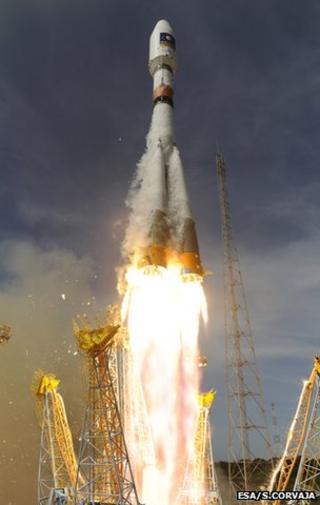 The third and fourth spacecraft in Europe's satellite navigation system have gone into orbit.
The pair were launched on a Russian Soyuz rocket from French Guiana.
It is an important milestone for the multi-billion-euro project to create a European version of the US Global Positioning System (GPS).
With four satellites now in orbit - the first and second spacecraft were launched in 2011 - it becomes possible to test Galileo end-to-end.
That is because a minimum of four satellites are required in the sky for a smartphone or vehicle to use their signals to calculate a positional fix.
Engineers can now run an intensive programme to validate every aspect of Galileo's design, including its all-important ground infrastructure which will monitor and control the satellites.
"Of course, these four satellites will be visible [only] during intermediate periods of time," explained Marco Falcone, the head of Galileo System Services at the European Space Agency (Esa), which is procuring the sat-nav network for the European Commission.
"But from now on, receiver manufacturers will be able to start testing the system and preparing for Galileo services."
The Soyuz ST-B rocket cleared the Sinnamary launch pad at the scheduled local time of 15:15 (18:15GMT; 20:15CEST; 19:15BST).
Ejection of the twin satellites into their 23,250km-high orbit occurred three hours and 44 minutes later.
It will be sometime before general sat-nav users are able to see the benefits of Galileo, however.
This will have to wait until a public navigation signal is switched on, and it is likely to be 2015 before there are enough spacecraft in orbit for the system to start to show its true capability.
Full deployment (27 operational satellites and three spares) is likely to take most of the decade.
Compared with the US's current version of GPS, Galileo promises more accurate and more precise fixes, although the Americans themselves are planning to upgrade their infrastructure in the coming decade.
The first four Galileo satellites comprise the so-called In-Orbit Validation (IOV) phase of the project.
The satellites were made by an industrial consortium featuring Europe's two heavyweight space companies - Astrium and Thales Alenia Space (TAS).
Astrium's role, at its UK centre in Portsmouth, was to integrate all the payload components, including hydrogen-maser atomic clocks, the ultra-precise time-pieces on which Galileo's performance depends.
TAS, at its Rome facility, developed the spacecraft bus, or chassis. This is the part of the satellite that generates power through solar panels, and keeps the platform on-station using a propulsion system.
The Astrium-TAS consortium had hoped to win the contract to provide the Full Operational Capability (FOC) satellites, but it was beaten to the work by a partnership featuring two of Europe's fast-rising spacecraft manufacturers - OHB-System of Bremen, Germany, and SSTL of Guildford, UK.
The first of 22 OHB-SSTL spacecraft should launch next year, again on a Soyuz from French Guiana.
A large antenna transmits signals to users on the ground
Distress signals are picked up by a search and rescue antenna
Another antenna receives information on the status of Galileo
The spacecraft is controlled from the ground via telecommands
Sensors make sure the satellite is always pointing at Earth
Further sensors keep an eye on where the Sun is in the sky
A laser retroreflector can determine the satellite's exact height
Radiators expel excess heat to protect electronics from overheating
Jonathan.Amos-INTERNET@bbc.co.uk and follow me on Twitter: @BBCAmos