Viewpoints: The badger cull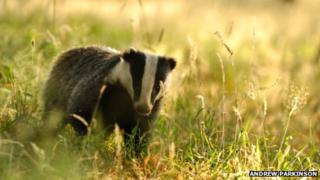 The issue of culling badgers in England has polarised opinion, within the town and the countryside, across the political spectrum and among the public. Few disagree that bovine tuberculosis causes serious hardship to farmers, and costs the taxpayer millions of pounds a year to control the disease. But there is very little agreement about everything else, including the interpretation of scientific evidence, policy making and wildlife conservation issues. So what are the different voices in the debate?
Adam Quinney, vice president of NFU
Bovine tuberculosis (bTB) is not as clear cut as you might think. It is the biggest challenge facing the UK livestock industry today and that is why something needs to be done now. No-one, including farmers, wants to cull badgers. However, it is a regrettable, but absolutely necessary step while TB increases its vice-like grip on our family farms.
In 1998 less than 6,000 cows were culled because they had TB; in 2011 it was more than 34,000. And every single one of those cows was culled to prevent them passing the disease on. It's a fact that TB exists in wildlife and no amount of culling of cattle will ever control this disease while there are still badgers spreading it further.
Since the link between badgers, cattle and bTB was established by Sir John Krebs in 1997, the farming industry has been seeking a long term solution to the problem. Trying to control this endemic animal disease cost the GB taxpayer £91m during the 2010/11 financial year, an increase of 44% on the previous financial year. We can only begin to reduce this cost if we carry out an effective badger cull in areas where badgers are known to have the disease.
It is very difficult for a farmer to prevent a wild animal from coming into contact with his cattle. But farmers are working hard to prevent potential contact and disease transmission to their herds through improved biosecurity.
Some measures that farmers take in bovine TB hotspots include raising feed and water troughs off the ground, trying not to feed cattle directly on the ground, ensuring doors to feed sheds fit well and are kept shut at night, storing feed in covered bins and fencing off badger setts and latrines.
Vaccination can play a part and the NFU fully supports the development of effective vaccines for badgers and cattle as we believe that they will play a role in the long term eradication of bTB. Of course we shouldn't have got to this point.
Bovine TB is hardly a new disease and farmers were promised a vaccine against the disease more than 20 years ago. However, at the moment the only badger vaccine available is in an injectable form. This means that you need to cage trap the badgers to vaccinate them which is practically very challenging and has to be done annually for a period of at least five years. There is currently no vaccine available for cattle nor an approved test that can distinguish between a vaccinated and an infected animal.
So in order to tackle this disease, we must reduce the reservoir of bTB in the wildlife. The proposed cull pilots due to take place this autumn are targeting two specific hotspot areas in the South West where the incidence of TB in wildlife is persistent and high; with the possibility of further culls in other hotspot areas in the coming years. Most of England is TB free and there are no plans to carry out culls of badgers in areas where there is no TB.
For those still in any doubt, this TB policy has been through two rigorous public consultations. It has also been upheld after challenges in both the High Court and the Court of Appeal. The policy is backed by scientists, vets and government who all agree that this is the best way of controlling the spread of this awful disease throughout the country. At the end of the day, we all want the same outcome: healthy cattle, healthy badgers and healthy countryside.
Gordon McGlone OBE, Gloucestershire Wildlife Trust
My personal view, and that of the Gloucestershire Wildlife Trust and the Wildlife Trusts, is that badger culling is not scientifically proven. It is an extremely difficult approach to tackling the disease and we don't feel that it is appropriate that it is effectively being portrayed as an essential part of bringing bovine TB under control. The Wildlife Trusts don't support it.
Biosecurity is absolutely key, and that is biosecurity in terms of the way that individual cattle and herds are managed and the separation of badgers from livestock, where there are substantial areas that could be improved. One-off capital investment can keep badgers away from livestock when they are being housed and I think that has to be something that is pursued more vigorously. The work done in Gloucestershire by the Fera (Food and Environment Research Agency) team has showed that when used properly it is 100% effective - badgers can be kept away from cattle when they are indoors or when they are in pens.
I think the wildlife trusts accept that the [badger] vaccine does not cure the disease; we accept it is not 100% effective. However, the research shows that vaccinating badgers does substantially appear to boost their immunity to bovine TB, which is a very good thing. I really don't understand why a vaccine that has been developed at huge public cost - over £16m - that has been shown scientifically to have a beneficial impact is not part of any government strategy. All the reasons given are cost and difficulty. Well, the badger cull is not exactly going to be cheap, it is not going to be simple and it is not going to have 100% effect either. And even more strange is that the modelling carried out by government, by Fera, has shown that if a badger cull is going to happen, then should badger vaccination be used as well [as culling], you get another 4-8% benefit. If you compare that to the 12-16% effect that the cull can allegedly deliver, that is not insubstantial. And yet it's being written off as inappropriate, the secretary of state is saying that it's not appropriate, that it is expensive, and I just think it is daft. If it was a human disease and there was a vaccine like that I very much doubt that people would say that we shouldn't be using it.
We must remember that farming is an industry even though it is a very personal industry. What industry would choose to take action against Britain's most iconic mammal, the one mammal that most members of the public would identify? If the badger cull goes ahead I think the farming industry will continue to receive very bad press which is one thing it absolutely can't afford.
If it is proposed to take out 70% of a population of a key mammal, that is going to have an impact. And it is not just about the fact that individual badgers will be killed, it is about this huge assault on part of the way that the countryside works, and I think that is what people have got very upset about - whose countryside is it? And this is where you get the real division between people who own the land and the people who live in it and I think that is what you're probably seeing through the e-petition - it is something really deep about our native wildlife.
Denis Leonard, cattle vet from Cheshire
TB is a disease with a long incubation period and is also slow and debilitating rather than lethal, which helps it to survive as an infection within populations, as an infected animal left to its own devices can spread disease for years to uninfected animals. As with most diseases the best way to rid a group of animals of the disease is to remove the source of infection (carrier animals - infected animals) and protect uninfected animals from future infection. In cattle this is done by regular testing and culling of infected animals aligned with restricting the movement of animals within herds known to be infected. In badgers nothing is done at all and hence the disease can propagate freely and extensively through this species. Because badgers and cattle eat together this lack of badger control renders any cattle controls completely ineffective.
Any serious attempt to control TB must involve the removal of infected animals and to that end I support the culling of badgers in infected areas. It is well known that partial culling creates an upsurge of disease due to perturbation of infected badgers, in other words increasing the movements of infection among the population by the badgers scarpering to neighbouring sets, potentially setting up a new geographically infected area. For this reason any cull needs to be very large and to be done with a significant margin around any geographical area that contains infection. It also needs to be extremely thorough, as leaving infection in badger populations is unfair to the badgers that are to be born in the future, or which migrate over time into the cull area, as they will become infected by the populations that we haven't cleaned up.
Due to the lack of backbone of successive governments this hasn't been done and hence the geographical disease area is now much of the west of England and Wales, so an effective cull would now have to be incredibly widespread. Because the government has run out of money it is forced into a position where it has to look at costs and therefore it has identified that if it reduces TB it can save itself quite a bit of money, so the possibility of a badger cull is now on the agenda. It is incredibly clear that the current policy of TB control is an abject failure, so carrying on as we are is doomed to increase the size of any effective future badger cull.
Farmers, vets and keepers of animals have always had to make hard decisions in the interest of the health and welfare of animal populations, both wild and domesticated. Similarly we have controlled verminous creatures and predators for the sake of human disease control and food since before records began. If this disease was carried by rats, people would be breaking the door down demanding we get on and sort it out. Because there are too many people who think they understand the countryside and disease control, but clearly don't, we are hamstrung by a lot of misplaced emotional nonsense.
As far as badger vaccination goes I am willing and in fact encouraging its use as an adjunct to the control of disease, but ultimately culling should be done as well to expedite the overall success of control of TB. Vaccination is still an unknown but I will do anything I can to get this disease reduced in our wildlife and livestock. I will help anyone who is trying to do something positive about controlling this disease.
Lorraine Morgan, Greenway Farm Caravan and Camping Site, Forest of Dean
I don't know the intricate science of it but I have gone to enough meetings and read enough about it to know that the argument is very flawed. The Forest of Dean markets itself on being this bucolic place where everyone comes to walk and cycle, spot wildlife, and photograph wildlife. To have an active cull area in the Forest of Dean I think can only do damage to its reputation. It is so cloaked in secrecy, and we have so many footpaths crossing so much farmland here, and high calibre rifles being shot at dusk, I think it is asking for trouble. This is a tourism area, we are now coming up to October half-term, which always brings people down here, it is the last big holiday before we shut and if they are right and the cull is in place by then, I can't advise people where they can go, where it is safe.
Once those badgers are gone, it is going to take a very long time to establish a population again. I think it is a recipe for disaster; it is going to be like a powder keg. Obviously they're not going to tell us where they are going to start culling so you're going to have marksmen firing at dusk when you have lots of people walking about. They say they are not going to do the shooting on Forestry Commission land or in the forest itself but there are a lot of footpaths around here that cross open farmland so that does raise concerns. As far as the Forest of Dean's reputation goes, it will be a very dark chapter in our history. If it goes ahead, it can only do us harm.