Green Room: Arctic sea-ice record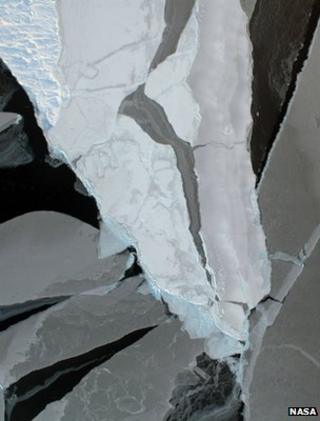 This year saw a new record in the satellite era being set for the minimum sea-ice extent in the Arctic.
Provisional results show that the 2012 extent fell to 3.41 million sq km (1.32 million sq mi) - 50% lower than the 1979-2000 average.
Arctic sea ice has long been regarded as a sensitive indicator of changes in the climate.
News of the unprecedented summer melt received a lot of media coverage - not just via the mainstream media, but also in the blogosphere and on social media feeds.
Former US Vice President Al Gore used his official Twitter feed to say the news meant it was "time to act on climate without further delay".
This reflected the vast majority of tweets, with many voicing concern that this year's record was just a taste of what was in store.
The UK's Guardian ran a story that an ice expert forecasted that the region's summer sea ice would "finally collapse" within four years.
The article quoted Cambridge University's Prof Peter Wadhams, who had emailed the newspaper.
He wrote: "Climate change is no longer something we can aim to do something about in a few decades' time, and that we must not only urgently reduce CO2 emissions but must urgently examine other ways of slowing global warming, such as the various geoengineering ideas that have been put forward."
The decline also triggered a number of other themes being aired, such as how the open waters during the summer who lead to a dash to exploit resources.
Just a few days after the the record was set, a committee of MPs called for a moratorium on companies drilling in the Arctic.
This followed on from the news that oil giant Shell had postponed it plans to start drilling there until 2013. The BusinessGreen website reported that the announcement came after some of the company's equipment failed to meet the standards needed to obtain a full drilling permit.
Another newsline that was pegged to the sea-ice data was how a future without summer sea ice would result in harsher winters for North America and Europe.
For those who wanted to know why the decline of summer sea ice was causing so much concern, the Washington Post's WonkBlog provided an explanation as to why it mattered.
As for why this year set a new record, Nasa scientists said a cyclone in the region during August played a role in breaking up the ice.
The authors of the data-set, the US-based National Snow and Ice Data Center, said that the figures were provisional as strong winds could push the floes closer together, resulting in a further fall in the minimum.