Science advisor says badger cull plan is a 'crazy scheme'
By Pallab Ghosh
Science correspondent, BBC News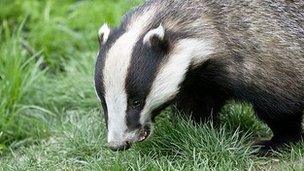 The scientist whose research is being cited by the government to justify its plan to cull badgers in England has described the scheme as "crazy".
Lord Krebs spoke to BBC News after the government's environment advisory body Natural England has issued a culling licence to a consortium of landowners in Gloucestershire.
The cull is intended to control the spread of TB in cattle.
A second licence will be issued to farmers in Somerset within days.
Both groups will then have to show that they can pay for the culling and shoot them in sufficient numbers before full licences are granted. BBC News has been told that these could be issued in three weeks and intensive culling could begin immediately.
The culls will be monitored by an independent group for a period of six weeks. If the body is satisfied that the culls are effective and humane it will advise ministers to continue the trials for four years.
This would pave the way for further applications. Natural England will issue a maximum of 10 licences each year - with future culls.
The culls are intended to reduce TB in cattle by some 16% over nine years in the immediate area. Across England though the effect is much smaller, around 5%.
The aim of the pilot schemes is to assess the effectiveness of the government's plan to slow down the spread of TB in cattle in England. The Welsh government has opted for a system of vaccination while Scotland is officially TB-free.
The plan is based on the results of a nine-year trial which showed that the spread of the disease could be slowed slightly if more than 70% of badgers in an area could be eradicated. If it was less than 70% - the spread of TB to cattle might even increase.
But the scientist who carried out the study has told BBC News that these pilot studies make no sense.
Lord Krebs, who is one of the government's most respected scientific advisers, said that the Department for the Environment, Food and Rural Affairs (Defra), which is administering the scheme, has no way of knowing how many badgers there are in the area, so will not know when they've killed 70% of the badgers in the area.
"I would go down the vaccination and biosecurity route rather than this crazy scheme that may deliver very small advantage, may deliver none. And it's very hard to see how Defra are going to collect the crucial data to assess whether it's worth going ahead with free shooting at all," he said.
Defra has said that it would be using data from previous studies and would commission its own research to estimate badger numbers.
According to Prof Sir Robert Watson, a former science adviser to Defra, which is overseeing the process, culling alone will not solve the problem.
"Culling won't solve the problem nationally (across England)," he told BBC News in a recent interview.
"But farmers in Devon, Cornwall and Gloucestershire are arguing that it can get between a 16% and 20% reduction which they think is significant and that they are willing to pay for."
The culls are paid for by local groups of farmers and carried out by private contractors. Prof Watson said that he himself questioned whether the cost of the culls would be economically worthwhile.
"I would say the economics is very close as to whether it is worth it. But the government has made a decision that (it should be tried if farmers are willing to fund it)," he said.
"The question (then) is: 'Is it a significant effect? Is it cost effective? Is it socially and ethically appropriate?"
Animal welfare and wildlife campaigners have opposed the cull, which will allow wild badgers to be shot when they come out at night, but lost their fight in the High Court last week.
Defra says the action is necessary to protect cattle from bovine TB, which leads to the slaughter of thousands of cattle each year.
Defra Minister David Heath said: "Our priority has always been to ensure that any culling of badgers is carried out in a safe, humane and effective way.
"The licence for Gloucestershire issued by Natural England today meets all the strict criteria we imposed, and the pilot in this area will help us assess the effectiveness of controlled shooting before we look at a wider roll out to control the spread of bovine TB in cattle.
"No one wants to kill badgers but the science is clear that we will not get on top of this disease without tackling it in both wildlife and cattle."
Plans to begin culling in Wales were recently abandoned in favour of a vaccination policy. There are no proposals to cull badgers in Scotland, where TB incidence is low.