Everest Sherpas in glacial lake study warning
By Navin Singh Khadka
Environment reporter, BBC News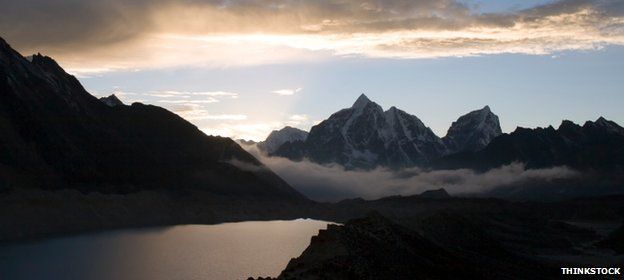 The Mount Everest region's Sherpas have said they are angry at the way studies of glaciers and glacial lakes have been conducted in recent years.
They say the studies do not involve them and that results are often spread through alarmist media reports that cause panic among locals in the area.
Threats such as glacial lake outburst are not being addressed, they say.
Some organisations involved in the studies insist they have always worked with the local community.
But members and some leaders of the Sherpa community have warned that they will not allow any new studies in the region if their concerns are not taken into account.
"We have made this clear to a few international organisations that came here recently for further studies," said Ang Chhiri Sherpa, chairman of an association of tourism entrepreneurs in Pangboche and Dingboche village, on the route to the Everest base camp.
Some glaciers in the region are reported to have undergone remarkable retreats, and the melt has been found to have produced large glacial lakes, some of them dangerously full.
The region has witnessed a few incidents in which glacial lakes have burst through their moraines and flooding human settlements, bridges, trails, and hydropower stations downstream. A number of lives have been lost.
"Everytime we begin to forget about the threats from glacial lake outburst, then comes news of yet another study through the radio and television, and this has been happening over and over again for more than 15 years now," said Mr Sherpa.
"Instead of having to fear death like that again and again, we would rather die once if the lake really bursts out one day."
Rumours of glacial lake outburst are also said to be causing panic among the locals.
Two months ago, following a television report on the risk of a glacial lake outburst in the region, many families in the lower belt of the Everest region fled their homes overnight.
Mr Sherpa said he and other villagers recently received late-night phone calls from people in a village downstream who were inquiring if the Imja glacial lake had burst.
"We were so scared because they were seeking confirmation from us after they heard rumours that sirens had gone off nearby the Imja lake, and we did not even know if the sirens had already been installed."
Chairman of the Everest region's Khumbu Alpine Conservation Council (KACC), Ang Nima Sherpa, said the main problem was that members of the Sherpa community were not included during the field studies.
"Once, we asked them to take one of our lamas to perform the ritual and worshipping before they could begin their field studies around Imja lake," he said.
"But they refused to do so and then they could not even light incense sticks when they tried to do the worshipping themselves, and eventually one of their senior researchers fell ill and died."
The Kathmandu-headquartered International Centre for Integrated Mountain Development (ICIMOD), which has conducted studies on glacial lakes in the region, said it had held workshops in Namche, the gateway to the Everest region, and published flyers in the Nepali language to create awareness among local people and their leaders.
A glaciologist who has done field studies in the region said there was competition between groups in the local community and some of them wanted a bigger share of research budgets.
The number of organisations and university students studying the region's Imja glacial lake has been rising and that is also something some members of the Sherpa community say they are not happy about.
"The Imja lake has become a hen that lays the golden eggs," said Mr Sherpa of the KACC.
"People and organisations from all around the world secure funds from donors in the name of studying Imja while there are many other glaciers and glacial lakes in our region that are more dangerous but are never studied."
Some international glaciologists have criticised studies of glaciers and glacial lakes in the Himalayas, saying they are often conducted at lower parts of the mountains that are easily accessible and the results are then extrapolated for the entire region.
ICIMOD's director general, David Molden, said long-term scientific monitoring, including frequent trips to the same location, was essential to produce sound information on the region's cryosphere.
"Imja lake is a textbook example of a fast-growing glacial lake, which is why it is often a site of research studies by both organisations and university students.
"Unfortunately, the coordination of studies and sharing of knowledge among different research groups is often lacking, and local communities are not always included in technical research in the region."
President of the Nepal Mountaineering Association, Zimba Zangbu Sherpa, said: "The situation has become such that many Sherpas in the region do not even want to hear the words 'climate change' these days."
Related Internet Links
The BBC is not responsible for the content of external sites.