Ed Davey moves to shield renewables amid reshuffle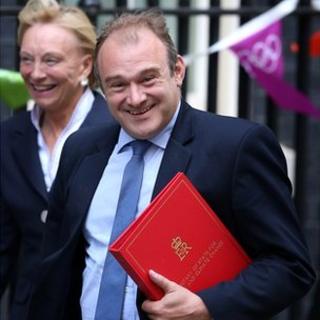 The Energy Secretary Ed Davey has moved to defend renewables after the appointment of two anti-wind ministers in the reshuffle.
The new Environment Secretary, Owen Paterson, and Energy Minister, John Hayes, both oppose wind farms.
The previous pro-renewables energy minister Charles Hendry was axed just as he prepared to help pilot the Energy Bill through the Commons.
The BBC understands Mr Davey will take personal control of renewables policy.
Previously Mr Hendry used to work out policy details on renewables, with Mr Davey in an overseeing role.
This may not be surprising, as his new ministerial colleague Mr Hayes told BBC News in 2009: "Renewable energy needs to pass the twin tests of environmental and economic sustainability and windpower fails on both counts."
Mr Hendry was a hugely experienced Conservative minister popular with the renewables industry.
It seems that his views proved too green as the Chancellor moves to promote the role of gas in energy generation and remove environmental regulations.
One insider at the Department of Energy and Climate Change (Decc) said: "The loss of Charles Hendry is very considerable. It's an enormous challenge for any new minister coming in as the Energy Bill will be probably the biggest bill to go through the Commons in coming months."
The Labour peer Lady Bryony Worthington said Mr Hendry's demotion was "a real shame".
The moves in the reshuffle were described by the environment campaigner George Monbiot as Mr Cameron "declaring war" on the environment. Mr Paterson has previously stated that he wants to expand shale gas in the UK and to cull badgers.
'Serious' move
Alan Whitehead, a member of the Commons Energy Committee, said: "There is a shift away from greener ministers in posts towards less green ministers and I think that's serious."
It's not clear yet just how far the new ministers are in the climate sceptic camp.
I asked Defra and Decc if their new ministers Mr Paterson and Mr Hayes accepted the scientific evidence of the UN's Intergovernmental Panel on Climate Change. So far, Defra has not replied. But Decc responded with a statement from Mr Hayes.
"We face a major challenge to keep the lights on in the most cost-effective way. In achieving this, we must not be over-reliant on any one technology, but build a balanced low-carbon mix and make the best use of Britain's domestic energy resources and skilled workforce."
However, this could be interpreted as an ambiguous statement that could lead to a large increase in gas use.
Both ministers would face serious credibility problems among international colleagues if they reject majority climate science.
Both would face serious credibility problems among international colleagues if they rejected majority climate science.
Lord Lawson, a leading UK climate change sceptic, welcomed the appointment of Mr Paterson, who he described as "one of the ablest people in Cabinet".
His colleague at the Global Warming Policy Foundation, Benny Peiser, applauded Mr Paterson's support for ending energy subsidies and promoting shale gas.
Britain's energy policy now faces a huge opportunity, Mr Peiser said: "(Mr Paterson) will have to prove that there is a rational and effective alternative to green command and control policies that Britain can no longer afford."
Mr Davey was making it clear today, though, that he still runs energy policy and that he intends to keep coalition commitments on renewables and reducing greenhouse gases. Decc sources say he believes he can persuade the Treasury that relying on shale gas is misguided.
The new appointments, though, will provide opposition from an unusual direction both in Cabinet and in his own department.
Meanwhile, as Mr Osborne plans to liberalise planning policy, greens are also raising concern about the new planning minister, Nick Boles.
In a debate he was reported as saying: "Do you believe planning works? That clever people sitting in a room can plan how people's communities should develop, or do you believe it can't work? I believe it can't work, David Cameron believes it can't, Nick Clegg believes it can't. Chaotic therefore in our vocabulary is a good thing."
Shaun Spiers, chief executive of the Campaign to Protect Rural England (CPRE), said: "The appointment of Nick Boles as Planning Minister will raise eyebrows, particularly as he has previously said he does not think planning can work. There are real concerns that he has been placed in CLG as the 'anti-planning Minister'."