Hurricane Isaac 'drove Mississippi River backwards'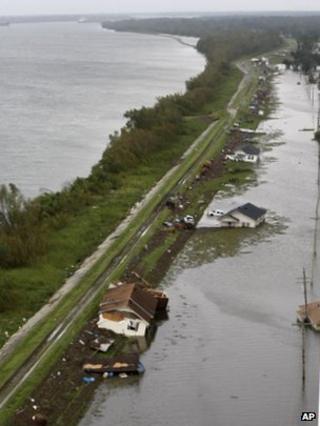 The storm surge ahead of Hurricane Isaac made the Mississippi River run backwards for 24 hours.
US Geological Survey (USGS) instruments at Belle Chasse in Louisiana recorded the flow of the river, finding it running in reverse on Tuesday.
The flow reached nearly 5,200 cubic metres per second (182,000 cubic feet per second) upriver, with a height of nearly 3m (10ft) above average.
Normal flow is about 3,540 cubic metres per second in the opposite direction.
But in rare cases, strong winds and the waves that they create can drive water up the mouths of coastal rivers.
As the hurricane carried on across land, instruments from the USGS' national network at Baton Rouge, Louisiana - 150km (100mi) upriver - recorded a 2.5m (8ft) rise above normal height.
"This reversal of flow of the mighty Mississippi is but one measure of the extreme force of Isaac," said USGS director Marcia McNutt.
"While such events are ephemeral, they are yet another reminder of why we need to respect hurricane warnings."
The reversal of flow on the Mississippi - the world's fourth-longest river - has been seen before, notably during Hurricane Katrina in 2005, when the river reached a height of 4m (13ft) above normal.
But it is not just extreme weather that can cause the effect; an earthquake near the New Madrid fault in Missouri in 1812 also reversed the river's flow for several hours.