Zebra virus kills polar bear in German zoo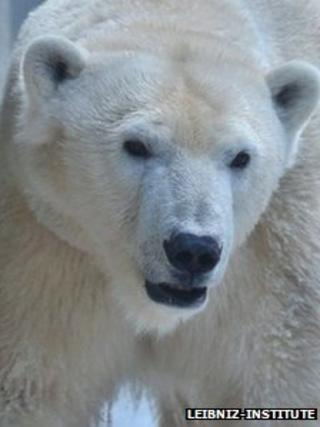 Zoos should be on the alert for viruses that can jump from one animal to another, threatening endangered species, say researchers.
The cause of an infection that killed a polar bear at a German zoo has been traced back to the zebra house, scientists report in Current Biology.
Viruses spreading to unexpected hosts may threaten the conservation mission of zoos, they warn.
Most pathogens are adapted to one host but some can leap the species barrier.
Flu, for example, is thought to have moved between pigs, birds and humans during its evolution.
Mystery illness
An international team of researchers carried out some DNA detective work after two polar bears at the Zoological Gardens in Wuppertal, Germany, were struck down by a mystery illness.
Two bears contracted the brain infection encephalitis, suffering seizures and frothing at the mouth.
One - a 20-year-old female, Jerka, died after little more than a week.
The other bear - a 16-year-old male, Lars, - was ill for several weeks but eventually recovered.
The team led by the Leibniz-Institute for Zoo and Wildlife Research (IZW) in Berlin extracted DNA and RNA from a brain sample of the dead bear to discover which of many possible viruses caused the illness.
Gene sequencing suggested the culprit was a strain of herpes virus normally found in zebras.
Studies on another nine polar bears at zoos in Germany found signs of the infection in Lars, Jerka and another bear, Struppo, who had never been in contact with the Wuppertal pair.
Prof Alex Greenwood of the IZW, lead author of the study, told BBC News: "One of the missions of zoos is conservation of animals and species-jumping viruses like the one in this study suggest that mission can be threatened if they are undetected."
Novel hosts
The researchers have yet to find out exactly how the bears were infected.
Polar bears in Wuppertal are not cared for by the same keepers as zebras and are housed 68 metres away, making direct contact an unlikely means of transmission.
However, similar viruses have been linked with encephalitis in other species such as gazelles and guinea pigs, and there is a chance that wild mice or rats could also spread the infection.
Prof Klaus Osterrieder from the Free University Berlin said: "These viruses do not seem to respect species boundaries and in fact, we don't really know whether they have any.
"One conundrum is that these viruses are not particularly stable in the environment, so it is important to figure out how they move between species."
Zoos are unusual in that they bring together animals from different continents and habitats, which would never live alongside each other in the wild.
Zoo animals are also moved around the world, to ensure genetic diversity is maintained.
One unintended consequence is that pathogens get the chance to spread from species to species.
Prof Greenwood added: "The visitors to the zoo want to see as many different animals from different places as possible, which is good but there has to be control. Knowledge is the best weapon."
Dr Arne Lawrenz of Wuppertal Zoo said the team had screened all polar bears in Wuppertal to make sure they are free of the virus following the bear's death in 2010, and will do so on a regular basis.
"Now that we are aware of this issue, we are better prepared and can be proactive."