UK Space Agency boss David Williams to leave post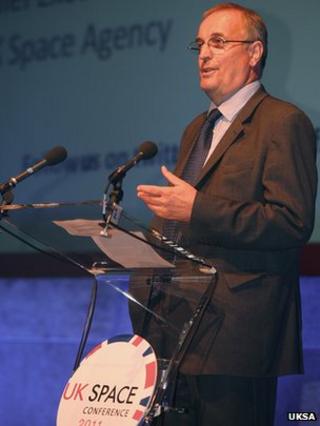 The UK Space Agency's chief executive is to step down at the end of the year.
Dr David Williams is moving to Australia to take a job with its national science organisation, CSIRO.
Dr Williams oversaw the creation of UKSA in 2010. It was established to bring more coherence to British space policy which had until then been split across many government departments.
"The agency was a big step forward, and I'd like to think space is now in a much better place," he told BBC News.
Dr Williams also has a key role at the European Space Agency where he is chairman of council - in essence, the head of national delegations.
He has the important task of helping to steer the Paris-based organisation through its critical ministerial gathering in November.
This is when member states will agree policies and funding for the next three to five years - all against the backdrop of a deep euro crisis.
The completion of that meeting will enable Dr Williams to assume his duties as CSIRO's new Group Executive, Information Sciences, on 29 November.
He will have responsibility for a large core of nationally funded science, including astronomy.
His group for example is charged with implementing Australia's part of the Square Kilometre Array, one of the grand global scientific projects of the 21st Century.
Dr Williams has previously worked for the UK Natural Environment Research Council (Nerc) and Eumetsat, the intergovernmental organisation that looks after Europe's weather satellites.
He was made director general of the UKSA's forerunner body - the British National Space Centre (BNSC) - six-and-a-half years ago.
The BNSC was a civil service unit that facilitated government departments and research councils with an interest in space activity.
But it had no executive powers, and this limited its ability to drive forward policies that had important economic or scientific benefits for the UK.
Dr Williams helped direct the transition to an agency structure, and to set out a more focussed path for British space interests.
"We've done well, I think. The thrust has been on growth and good science," he said. "We're now at a tipping point where we have to decide in this country how big we want to be in space."
Figures show the UK industrial sector to be in a healthy state. Turnover totalled £9.1bn in 2010/2011 (compared with £7.5bn in 2008/09).
A cluster dedicated to innovative space companies capable of driving further growth has recently been established on the Harwell science campus near Oxford. Esa, too, has opened a centre at Harwell.
Ruy Pinto, the chairman of UKspace, the industry trade body, said Dr Williams had overseen a major transformation in the way government viewed space activity, in particular with the creation of the UKSA.
"His successor will be faced with the challenge of building on this platform, and through continued close work with the space industry, to develop a national space policy and accelerate growth of this dynamic sector to meet the aggressive economic targets agreed with government and identified in the Space Innovation and Growth Strategy Report of 2010, to create 100,000 new jobs and a £40bn industry by 2030," he told BBC News.
Jonathan.Amos-INTERNET@bbc.co.uk and follow me on Twitter