Wet weather sparks concern for swifts, RSPB says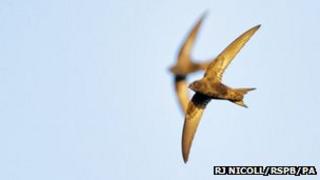 This summer's cold and wet weather has had a disastrous effect on the breeding season for swifts, the Royal Society for the Protection of Birds says.
The population of the birds that come to the UK every summer to breed is said to be nearly a third lower than it was in the mid-1990s.
The weather has resulted in fewer flying insects for swifts to eat.
Experts say many swifts are returning to Africa early, putting population levels further at risk.
The RSPB says swifts are also facing a lack of nesting sites in the roofs of UK buildings as old properties are renovated and new homes built with no access or space for nests.
RSPB conservation director Martin Harper said: "The last thing this struggling species needed was to be hit hard by the wet weather this year.
"But they are at the mercy of more than just a wet summer. Their ability to nest depends on our buildings having spaces for them.
"They fly as many as 6,000 miles each spring to get here from Africa to breed, only to find that changes in the way we're building and renovating means there are fewer nest spaces."
The RSPB is urging the public to submit details of swift nests they become aware of to help developers and local authorities consider the needs of the species.
Conservationists say they have become aware of adult swifts pushing unhatched eggs out of their nests because a lack of food has meant they have not been able to feed themselves sufficiently, incubate eggs and feed their chicks.
Edward Mayer of Swift Conservation said: "We fully expect to see a decline in the breeding figures this year.
"People are telling us that the number of swifts that arrived here several months ago was pretty consistent with last year, but after that they disappeared again as they flew away to wherever they could find food."