Fewer and bigger - shape of NHS services to come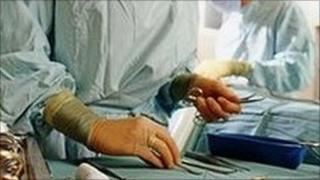 Politicians are usually quick to speak out about changes that should lead to improved services for patients. But ministers will leave it to surgeons and health officials to champion the proposed changes to children's heart surgery.
This is not surprising given that the entire process was free of ministerial input and the decision given to a Joint Committee of Primary Care Trusts.
Ministers, whatever their political party, know the perils of being associated with the loss of hospital services.
It has taken more than a decade for children's heart surgery to be reorganised. The Bristol heart surgery inquiry concluded as far back as 1991 that surgery be concentrated in fewer, larger centres.
There have been several reviews since then and all have reached similar conclusions. So why did it take 11 years for today's announcement? Lack of political will and opposition from within the NHS are among the factors. I've written about the background to the changes before.
Today's decision means there will be seven surgical centres at the Freeman Hospital, Newcastle, Alder Hey Hospital, Liverpool, Birmingham Children's Hospital, Bristol Royal Hospital for Children, Southampton General, and in London at Great Ormond Street Hospital and Evelina Children's Hospital (at St Thomas').
The three surgical centres to close are at Leeds General Infirmary , Glenfield Hospital in Leicester and the Royal Brompton Hospital in London.
If you want to read about the proposed changes in details, my colleague Nick Triggle's report can be read here.
Shutting hospital services is politically risky. This was highlighted when a retired doctor provided the biggest shock of the 2001 election by trouncing a Labour minister to win the seat of Wyre Forest. Dr Richard Taylor had been campaigning against the downgrading of Kidderminster Hospital.
Within the health service there was broad consensus that fewer surgical units were needed, but often bitter in-fighting over which should be chosen.
Most recently the Royal Brompton hospital in London launched a legal challenge to the whole consultation process when it emerged that it was not included in any of the preferred options.
The hospital initially won its judicial review but then lost on appeal. It argues that its world-class respiratory service would be irreparably damaged if it no longer carried out children's heart surgery.
This is because the hospital's paediatric intensive care unit would close, and mean that some complex procedures for patients with Cystic Fibrosis and other conditions would have to be transferred elsewhere.
Dr Duncan Macrae, director of children's services at the Royal Brompton said: "What is genuinely shocking about this proposal is the failure of NHS managers to acknowledge or understand the adverse impact that the proposed changes will have on our highly specialised services for children with severe lung and heart conditions."
But there is no argument about the need for change in children's heart surgery. Study after study in Britain and overseas has accepted that hospitals with bigger caseloads have better results. The Safe and Sustainable review team point to reviews of paediatric heart surgery in Sweden, Canada, Australia, the Netherlands and Germany.
There will be many parents who will be distraught at the prospect of their local hospital losing its surgical unit. These are families who build up strong relationships with the surgeons and staff - often their children have several operations over a number of years.
It will mean that many families will have to travel much further distances for surgery. But the review team stress that all the current hospitals will keep their cardiology units so most day to day care will remain where it is.
Professor Sir Ian Kennedy, who led the Bristol inquiry is adamant that the changes will benefit patients. He told me: "What we've got to do is replace mediocrity with excellence. When this reconfiguration goes through we can be confident that we are bedding in excellence."
Sir Ian described it as a landmark moment which would point the way to the consolidation of other services.
A review of adult congenital heart services is underway, and another looking at children's neurosurgery.
Several Accident and Emergency units could shut in north-west London as part of a review of trauma services and specialists want to see an overhaul of maternity services.
Perhaps the best example of "fewer, bigger, better" is provided by the stroke service in London. Eight "super" units provide treatment which previously was done by 30 hospitals. It was initially controversial but has now been deemed a success and is expected to save around 400 lives a year.
Those responsible for changing children's heart surgery seem confident that - in years to come - their re-organisation will be seen in a similar light.
' Fewer, bigger, better' is the new mantra in the NHS regarding specialist services.