Norway aims for carbon leadership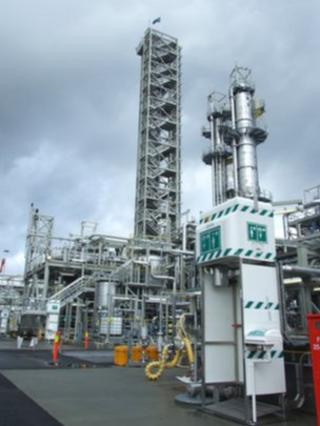 "Welcome to Norway, welcome to Mongstad; and welcome to a great and important day."
Norwegian Prime Minister Jens Stoltenberg did not shy away from superlatives as he formally inaugurated the carbon capture test facility at Mongstad near Bergen, on Norway's west coast.
"Today we are opening the world's largest and most advanced laboratory for testing carbon capture technologies... a unique test centre to meet one of the greatest challenges of our time."
A trumpeter sprayed bright and airy notes, a choir of local children sang, and all appeared to be rosy in the world of carbon capture and storage (CCS).
Outside the heated marquee where Mr Stoltenberg and his fellow dignitaries effused, twin towers rose into the damp Norwegian sky, each housing one of the technologies that will be tested first.
"This centre is going to prove how we can capture CO2 cost effectively and efficiently from things like flue gases or refinery processes," says senior Shell executive Andy Brown as we tour the plant.
"So we can test new substances to capture the CO2, which we can then inject under the subsurface, back into the reservoir, and keep it locked up forever."
Although Technology Centre Mongstad (TCM) is mainly owned by the Norwegian state through its CCS agency Gassnova and its majority shareholding in the oil and gas company Statoil, a number of other companies including Shell have taken a share.
They hope the knowledge gleaned here can take the technology where it needs to be in order to make a meaningful contribution to tackling climate change - and according to the International Energy Agency (IEA), it should making as big a contribution as renewables.
Taking the long road
TCM has been a long time coming.
The Norwegian government and Statoil agreed to start building it back in 2006.
The eventual cost came in at around $1bn, 10 times more than had been foreseen.
Many governments, even as rich as Norway's, might have baulked at the escalating cost.
But the power station at Mongstad that will be one of the facility's sources of CO2-laden gas has a history of claiming political scalps.
In 2000, Prime Minister Kjell Magne Bondevik resigned because while he insisted that the power station then being built must be fitted with CCS, his coalition partners did not agree.
According to Frederic Hauge, president of Norwegian environment group Bellona, failure to build TCM would bring down the present government.
"What we have here is a situation where this government will fall apart if they don't carry it out, because the socialist party will resign," he tells BBC News.
"That helps get political momentum.
"Then, we have a huge political acceptance because of the work the environmental movement has done. In very many places in Europe you have an environment movement telling only what they are against; we should do that, but we also have to promote what we are for."
Bellona decided many years ago that it was in principle in favour of CCS.
Norway's oil and gas production accounts for about 3% of the world's fossil fuels, it calculates; and given that economics mean the oil and gas are going to be burned, what other solution is there?
Gas solution
The Mongstad facility is fitting, given Norway's long history of innovation in the environment field.
"We have seen in Norway more than once that they took a very courageous stand, for instance on the CO2 price in the 1990s, and now we see that others follow them," says Maria van der Hoeven, IEA's executive director.
"It's a kind of lead country in that respect."
The carbon tax also led Norway to develop the first large-scale carbon capture project in the world - not taking CO2 from a power station, but extracting it from the natural gas coming from the offshore Sleipner field, owned by Statoil.
Sleipner gas contains up to 9% CO2, very high for a gas well. Under Norway's carbon tax, Statoil would have to pay so much that extracting it, piping it down 4km and burying it under the North Sea bed is an economic alternative.
But this is one of the rare instances where the economics of CCS add up.
Fitting existing technology to coal- or gas-fired power stations makes them less efficient. It takes energy to drive the CCS processes, so the power station must burn more fuel to produce the same amount of electricity.
The principal cost lies in the capture part of the process, and that is the focus of TCM.
"If we take a modern gas power plant in Norway such as the one on the southwest coast at Karsto, the efficiency is typically 59%," says Olav Falk-Pedersen, TCM's technology manager.
"When we install the CO2 capture unit and we include transport [of the CO2], efficiency drops to around 50%.
"That is where we are at the moment. What we are aiming for is to reduce that so we can get efficiency to 54% or something like that."
That change, he believes, might make CCS a more palatable investment for some of the many hundreds of fossil-fired power stations due to be built around the world over the coming decades.
The immediate focus of the research is on liquid-based technologies, the oldest and most established.
In the 60-metre tower that dominates the Mongstad skyline, a liquid amine - a relative of ammonia - trickles down through an intricate set of metal baffles.
As it comes down, gas containing CO2 flows upwards. The amine's task is to capture the CO2 and lock it into solution.
The baffles increase the surface area over which the liquid and gas are in contact.
"If you compare it to your lung, you're pumping blood to get oxygen into your body; and if you are fit you have a big lung, a big surface, to be able to absorb a certain amount of oxygen," says Mr Falk-Pedersen.
"In that tower, the liquid surface is the same as eight soccer fields, so it's a very big surface."
When the gas reaches the top of the amine tower and vents into the atmosphere, it has lost about 90% of its CO2.
The amine is then heated up with steam, releasing the CO2 which is captured and can be sent for storage.
TCM will test an amine process belonging to Aker Clean Carbon for 14 months.
Alongside that plant sits another facility using chilled ammonia as the solvent, developed by Alstom.
TCM has just put out an invitation to other companies to install gear they want tested, and is hopeful of getting more onto the site - perhaps as many as five or six.
The site's unique offer is that engineers can try their processes on gas with virtually any combination they want of CO2 concentration, temperature and pressure.
Flue gas coming from Dong Energy's power station next door contains about 3% CO2, while the pipe from the cracker at Statoil's Mongstad refinery comes in at around 13%. This means that gas can be delivered to the capture systems with whatever the operators want in terms of CO2 concentration, temperature and pressure, enabling testing under real-world conditions.
How successful it will be depends partially on the innovation that Mongstad's partners bring to the site - potentially going beyond solvent-based solutions into more radical technologies.
But for Jens Stoltenberg, failure is not an option.
"The world needs more energy to create development and economic growth, to lift millions out of poverty," he tells the assembled crowd, the towers of Mongstad glistening behind him.
"We need to reduce emissions, and we need to increase the production of energy, at the same time.
"Carbon capture technology is key."
On Saturday, in the second part of his feature from Norway, Richard will look at the economic and political constraints affecting development of carbon capture and storage and at prospects for new technological approaches
Follow Richard on Twitter