RSPB says heavy rain has been disastrous for birds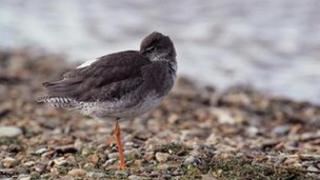 Heavy rain and flooding has had a disastrous impact on many of the RSPB's nature reserves, the charity has said.
Nests and breeding grounds have been destroyed by rising water levels, the bird protection group added.
The BBC's rural affairs correspondent Jeremy Cooke said the recent deluge of rain had come in the wake of acute water shortages.
Among the worst affected is the Ouse washes in Cambridgeshire, which is an important wetland habitat.
The reserve is used as part of a flood relief system for the Great Ouse river and the Environment Agency was forced to open sluice gates which prevented flooding upstream, but meant the nesting grounds of many wading birds were washed away.
Redshank, lapwing and rare black-tailed godwits were among the victims.
Jon Reeves, RSPB's site manager at the Ouse Washes, said: "Following centuries of land drainage across the UK, the Ouse Washes is now the most important stronghold for these birds after they have been largely forced out of other sites.
'Devastating'
"Literally, we have all our eggs in one basket and we've lost them.
"It's devastating to watch the nests succumb to the rising waters without being able to do anything to prevent it," he added.
But our correspondent said lowland snipe were worse hit with over a third of their estimated population in England and Wales having had their nests destroyed.
At the Minsmere reserve on the Suffolk coast, avocet and black-headed gulls and been particularly badly affected.
The RSPB says there has been similar destruction at nature reserves at Pulborough Brooks in West Sussex and Fairburn Ings, near Leeds, West Yorkshire.
But one family of coots at Fairburn Ings survived when the nest full of eggs was washed away.
The nest floated to a spot 30 metres away where the eggs were able to hatch.