Top scientist quits anti-doping body over 'muzzling'
By Matt McGrath
Science reporter, BBC World Service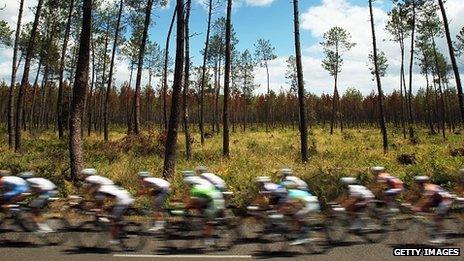 A leading scientist says he is resigning from an expert body on biological passports in sport because he is being "muzzled".
Dr Michael Ashenden accused the anti-doping movement of fostering a culture of "omerta" - a term describing the pact of silence in the mafia.
He said the imposition of a new confidentiality clause in his contract was an attempt to silence him.
Since 2008 he has been an independent reviewer of blood profiles in cycling.
The governing bodies of professional cycling and international athletics extensively use the passport.
The Union Cycliste International (UCI), which governs cycling,thanked Dr Ashenden for his contribution to the sportbut made no direct comment on the circumstances of his resignation. The International Association of Athletics Federations (IAAF), which oversees athletics, acknowledged that Dr Ashenden had declined an offer to be part of their expert panel.
Dr Ashenden is regarded as one of the world's foremost experts on blood doping and the athlete's biological passport. He has acted as an expert witness in high profile cases, including those of Lance Armstrong and Alberto Contador.
Both cycling and athletics have recently handed over management of the biological passport to a newly created Athlete Passport Management Unit (APMU), based at the Swiss Laboratory for Doping Analyses (LAD) in Lausanne.
The APMU has issued new contracts to its experts, with much tighter confidentiality clauses.
Dr Ashenden says his new contract requires him to get permission before offering personal opinions on any matter related to his role interpreting blood profiles. He says the APMU are "trying to manage the message".
The scientist told the BBC: "It seems to me that too much emphasis is being placed on controlling what the media are told. There should be nothing to hide, so why stop the experts from talking?"
The BBC contacted the APMU for comment several times, but we have yet to receive a response from the unit.
In recent years, anti-doping organisations have encouraged athletes to share information about fellow athletes they believe are doping, even offering reduced sanctions to those who help convict their peers.
"Although it's sometimes difficult and personally damaging for me to speak out, it's much more difficult for an athlete to betray a peer.
"I've personally asked athletes to take that leap of faith, and I'd be mortified if I ever failed to have the same moral courage I've asked of those athletes," Dr Ashenden explained.
"We constantly struggle to overcome their omerta, their refusal to tell us what is happening in their sport. We want them to blow the whistle on their colleagues. And yet here Lausanne is imposing its own 'omerta'.
"In fact, it goes one step further and writes legally binding contracts to stop their experts from speaking out. It's hypocritical, and suggests they talk the talk but won't walk the walk."
Information from the athlete's biological passport will also play a significant role in anti-doping at the London Olympics, with the profiles of athletes, swimmers and cyclists and rowers being monitored.
But Dr Ashenden has been critical of the way the passport is held up as a panacea for doping.
He has carried out experiments showing that it is possible to cheat the passport system by taking micro doses of the blood-boosting drug EPO.
The doping expert points to the IAAF, arguing that, despite having a passport programme in place for several years, as far as he is aware they have never sanctioned anybody as a result of their profiles.
"It's not the tool, it's the execution that worries me. That's the reason why I believe it's important media have the opportunity to ask hard questions. Unless they're well informed about how the passport operates, they won't know which questions to ask," he told the BBC.
"It's not about criticising the passport, it's about getting it better."
A spokesperson for the IAAF told BBC News that it had "made enormous progress on the Athletes Biological Passport and soon this... will be noticeable to the public and to the media.
"However, we cannot comment yet on the actual state of the eventual cases. All the sanctions are decided from the national federations and the IAAF gives the approval. Regarding Dr Ashenden, the IAAF has officially offered him to be part of the IAAF ABP Expert Panel but he declined."
Dr Ashenden objects strongly to a paragraph that says he must seek permission before he can talk about "any aspect of the role as APMU member" for up to eight years after he is terminated as a member.
"Anti-doping exists to protect clean athletes, not the reputation of the anti-doping movement. When push comes to shove, my actions will always be in the interests of clean athletes, even if that means I ruffle feathers by highlighting some inconvenient truths.
"And just because I serve on their panel, it doesn't give them the right to silence me."