'Old Prickly' beer produced for Shropshire hedgehog charity's 30th anniversary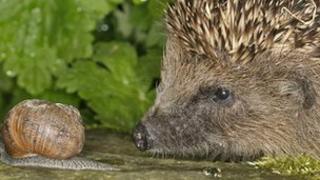 A commemorative beer has been produced by a Shropshire brewery to mark the 30th anniversary of a hedgehog charity.
The British Hedgehog Preservation Society was started in 1982 after a successful bid to have escape ramps for the animals fitted in cattle grids.
Charity founder Major Adrian Coles MBE campaigned for them after trying to rescue a hedgehog stuck in a grid.
For every pint and bottle sold of "Old Prickly", Hobsons Brewery said it will give the charity a donation.
The launch of the beer - described as light and floral - is to take place at the Golden Cross pub in Ludlow on Thursday.
Nick Davis, from the brewery said: "We're very much looking forward to working with the British Hedgehog Preservation Society on their 30th anniversary celebrations.
"The special edition beer is designed to not only raise awareness but generate funds to help the society continue their great work."
The Shropshire-based charity said it now has about 11,000 members with about 700 of those taking in sick, injured and orphaned hedgehogs.