Norway tries to reclaim explorer Amundsen's ship Maud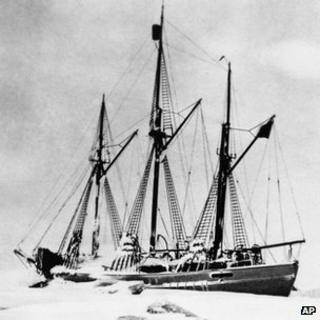 A hearing on Thursday will decide the fate of a ship once captained by Roald Amundsen, the Norwegian explorer first to reach the south pole.
The Maud is partially sunk in Cambridge Bay in Nunavut, northern Canada.
A permit to return the ship to Norway was denied in December and Canadian officials have argued the ship is crucial to the nation's heritage.
Campaigner Jan Wanggaard is spearheading a project to overturn the decision.
CalledMaud Returns Home, the project would see the wreck towed back to Norway to become a museum near Oslo.
Amundsen was using the ship to sail through the Northeast Passage between 1918 and 1920 but was unable to launch an expedition to the north pole from there.
The ship was sold to the Hudson's Bay Company and became a warehouse and radio station before sinking in 1930.
Asker Council in Norway bought the ship back for $1 in 1990, securing a permit to repatriate it - but the permit has since expired.
In December, the Canadian Border Services Agency rejected a renewed request to export the wreck.
Mr Wanggaard will appear before the Canadian Cultural Property Export Review Board in Ottawa on Thursday to overturn that decision.
The board may roundly reject the proposal or impose a delay of up to six months on the decision, during which time it is believed a Canadian buyer may be sought.