Drought likely to impact food prices and gardens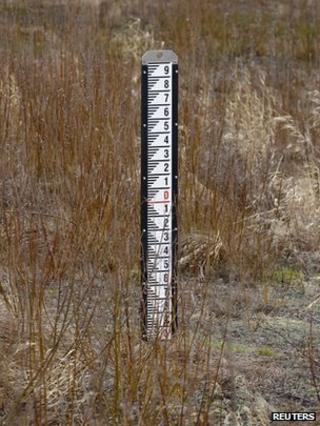 Drought conditions are expected to spread across more of England in coming weeks, unless strong rains arrive.
The Environment Agency is expected to say on Tuesday that hosepipe bans are imminent in several parts of the south.
It is also expected to warn of effects on agriculture that could raise prices of potatoes and other vegetables.
At the government's recent "drought summit", water companies were urged to step up measures to reduce leakage and eliminate unnecessary water use.
The Environment Agency is expected to reinforce that call in its report.
A number of water companies in the southern half of England, covering about 20 million people, are understood to have contingency plans in place that could lead to bans on non-essential uses, perhaps before the end of March.
These could include bans on car-washing, watering gardens and filling swimming pools.
Meanwhile, the area formally in drought is expected to extend beyond south-eastern counties to include parts of Yorkshire.
Counties that have received much less rainfall in recent months also include Shropshire and Somerset.
The National Farmers Union has warned of the impact on both arable and livestock farming, and is asking for restrictions on agricultural water use to be avoided wherever possible.
Farmers have reportedly planted 80% of the area they usually fill with crops, and are expecting lower than average yields.
But conservation groups point out that if farmers, householders or businesses take more water from rivers and lakes that are already poorly supplied, wildlife will feel the effects.
Reservoirs such as Bewl Bridge in Kent are below half of their normal level for the time of year.
Heavy rains could yet stave off the worst of the impacts, but forecasters are predicting drier than average conditions for the next few months.
In the worst case, this could lead to emergency measures such as supplies being limited to public standpipes in the street being implemented, as was the case during the 1976 drought.