Airlines and tar sands proxy for bigger climate battles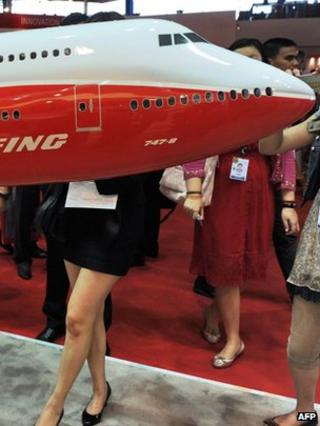 It's shaping up to be a crucial week in climate politics.
At the centre stands the EU, cast, in this guise, as climate champion - determined to take a small step towards charging airlines for the full environmental costs of flying, and to tax highly-polluting forms of fossil fuels.
Attacking the EU from every side is a large number of countries with serious clout.
At a two-day meeting in Moscow, 26 countries opposed to the EU putting aviation inside its Emission Trading Scheme (ETS) are discussing a response, ranging from a formal protest through the Chicago Convention to unspecified "retaliatory measures".
There's even talk of a full-scale trade war, even though (as I've discussed before) the sums that industry might lose are trivial.
As soon as that ends on Wednesday night, the focus will shift to Thursday's European Commission meeting, where officials will debate a proposal to update the Fuel Quality Directive (FQD) in a way that would penalise fuels such as oils made from coal and from tar sand deposits on the grounds that their production is highly carbon-intensive.
Once again, a trade dispute looms, with Canada threatening action, possibly through the World Trade Organization (WTO), if tar sand oil is penalised.
Both issues carry a strong whiff of testosterone, with the hard men of business determined that their governments should not yield to green demands, and Europe determined to retain the climate cojones it found at last year's UN meeting in South Africa, having mislaid them two years previously in Copenhagen.
But below the posturing is something rather fundamental; and the importance of the week's events should not be underestimated.
As became clear at the South Africa meeting, a majority of governments want action on climate change and want it pretty quickly.
But because of the way international organisations such as the UN climate convention work, a small number of governments can block consensus very effectively.
China, India Russia, the US, and Canada found themselves (largely through reasons of expediency) in the laggards' room in Durban - and there's common ground between them again as they survey the EU positions.
On the aviation side, the International Civil Aviation Organization (ICAO) has been discussing a possible global agreement on restricting aviation emissions for at least 14 years, without implementing one.
So what we're seeing here is one bloc - the EU - taking its own steps outside the UN organisation to reduce not only its own emissions, but those of other countries.
If the EU is successful on either of these issues, it opens the door to other measures.
One idea that's been batted around for years is some kind of border adjustment.
So country A levies charges on emissions from companies making a certain type of goods.
Country B doesn't have any such charges. So when Country A imports that type of goods from Country B, it imposes a tariff to compensate.
You can see immediately why it's controversial; not least because if such measures came into use for climate change, might countries also try to impose them for other reasons? How far would it go before it became protectionism?
That's why all kinds of observers from environment groups and business lobbies will be watching this week's events like hawks.
The tar sands issue, where a vote is due within a European Commission technical committee, will probably be kicked upstairs to the bloc's main fora, and could rumble on for many more months.
But the aviation issue is much more mature - it's already EU law - and we may gain a better understanding in the next few days of how serious the EU's opponents are, and indeed how serious the EU is.
With the bloc struggling financially and even asking China for assistance in getting through the eurozone crisis, Brussels does not have the best negotiating position in history.
Russia, host of the aviation meeting, supplies the EU with much of its gas.
So the levers are there, if opponents want to use them.
Observers who put a lot of store by the projections of climate science will be vehemently hoping it doesn't become anything like a trade war.
One indication that it might not is that newspapers in India and China, which until recently parroted the lines of their governments, have started to question it.
A comment article in the China Daily this week said Chinese airlines might not lose anything like the amounts they're bandying around - but even if they do, "It is unwise to launch a full-scale trade war against the EU merely for the sake of the interests of China's aviation industry".
Even stronger was The Hindu Business Line, which argues that "The airline and shipping industries have long had an easier ride than many sectors when it comes to tackling climate change.
"The EU proposal may not be a perfect solution, but is an important step. Hiding behind the arguments of unilateralism and a trade war ignore the realities and is something India shouldn't be a part of."
As the article notes, there is a more constructive scenario on the horizon; that ICAO now gets its act together and comes up with a plan on which every country can agree - in which case, the EU could suspend its unilateral move.
And there's also research around showing that contrary to their protestations, airlines could actually make money from their involvement in the EU scheme.
But the stakes are bigger than a few dollars on a flight or a barrel of tar sands oil; so we may not be done with acrimony for a while.