Nasa budget slashes Mars funding
By Paul Rincon
Science editor, BBC News website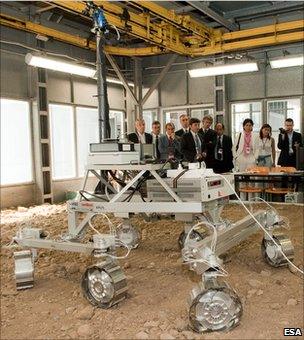 President Barack Obama's 2013 budget request for Nasa would slash spending on Mars exploration and shift funds to human spaceflight and space technology.
But spending on human exploration and space technology would rise by 6% and 22% respectively.
"There's no doubt that tough decisions had to be made," Nasa's administrator Charles Bolden told a news conference in Washington DC.
But he added: "This is a stable budget that enables us to support a diverse portfolio."
Overall, Nasa would receive about $17.7bn for next year, with a flat budget envisaged over the next few years.
While the budget is flat, the agency needs to pay for its flagship James Webb Space Telescope mission, the budget for which is projected to rise from $476.8m in 2011 to $659m in 2014.
It also has major commitments going forward to fund the development of a huge new rocket and capsule system to take astronauts beyond low-Earth orbit to destinations such as the Moon and asteroids.
The biggest loser in this re-prioritisation is planetary science in general and Mars exploration in particular which will receive $360.8m, a reduction of almost 40% from the FY 2012 estimate.
As a result, Mr Bolden said: "We will not be moving ahead with the 2016 and 2018 ExoMars opportunities that we had been exploring with the European Space Agency."
The Planetary Society, a California-based space advocacy group, said in a statement: "The US Administration is proposing a budget for fiscal year 2013 that would force Nasa to walk away from planned missions to Mars, delay for decades any flagship missions to the outer planets, and radically slow the pace of scientific discovery, including the search for life on other worlds."
Space policy expert John Logsdon told Space.com: "Underpinning this is not committing to a long-term Mars programme ending in a multibillion-dollar sample-return mission." He added: "They don't want to head down that road."
Nasa says it will work with partners to develop an "integrated" Mars strategy - though detail was scarce on this point. The Mars Science Laboratory (MSL) rover will land on the Red Planet this year and the Maven mission, to study the Martian atmosphere, will still go ahead in 2013.
Responding to criticisms of swingeing cuts to the Mars programme, Mr Bolden said: "For someone to say we're walking away from Mars with the biggest rover (MSL) not even there yet, I don't think that makes much sense."
However, the proposals are unlikely to be waived through in Congress and it is probable the final figures will be somewhat different.
The retirement of the space shuttle fleet means that, for the best part of this decade, US astronauts will be dependent on Russian Soyuz flights to transport them to the International Space Station. But the space agency said it was working to end this reliance on Russia as soon as possible.
Mr Bolden said the first flight of a crewed commercial vehicle would probably take place by 2017. The first manned mission using the Orion capsule, which is intended to carry people beyond low-Earth orbit, would likely occur no earlier than 2021, he said.
Paul.Rincon-INTERNET@bbc.co.uk