Taking the measure of birdsong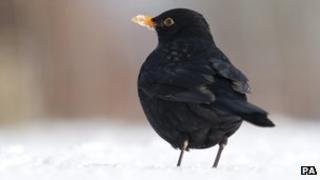 From John Keats' "light-winged Dryad of the trees" to Paul McCartney's "blackbird singing in the dead of night" it's a truth poets and songwriters down the ages have taken to be self-evident: Birdsong is good for you.
As the author of Birdwatching With Your Eyes Closed, Simon Barnes, puts it, "we're in Sybil Fawlty territory here. It's the bleedin' obvious.
Hearing the sound of a nightingale in full voice materially effected Keats' physical condition. We all know that, Keats just expressed it rather better than most of us could."
It might surprise you then, to discover there's actually no hard scientific evidence to support the assertion that birdsong lifts the spirits, reduces stress or enhances physical well-being.
Until now that is. Stung into action by this apparent gap in our knowledge, researchers at the University of Surrey's Department of Psychology have launched a three-year project looking at the impact of birdsong on the brain and our behaviour.
The study, led by doctoral student Eleanor Ratcliffe, combines conscious online assessments - ranking birdsongs according to preference - with more subtle clinical measures of stress levels and neurological well-being. It will present calls against a range of environmental backgrounds to try and tease out whether it's going for a walk in the countryside or the birdsong itself that makes the difference.
"Anecdotal evidence suggests we respond positively to birds singing," she says, "but we need to build up a clearer picture of how and why birdsong can be of psychological benefit".
The project is being funded by the Economic and Social Research Council and the National Trust. "As a lifelong birder," the Trust's ecologist Peter Brash says, "birdsong has been the natural soundtrack to my life. It gets us closer to nature and links people to places and memories in a way that few other sounds can."
The answers should help psychologists to better understand the contribution of birdsong to the restorative impact of natural environments. It's already well established that having a room with a view can speed up the recovery process for post-operative patients in hospital, but exactly how it works, and whether the sounds of nature are important, remains a mystery.
According to the environmental psychologist overseeing the project, Dr Birgitta Gatersleben, the study will help to develop that understanding. "There's a lot of research looking at the restorative effects of natural environments" she says, "but we don't know much about the importance of sound. The study will help us explore when, and how, this might be beneficial for people."
We'll just have to hope that, in analysing the empirical evidence underpinning the restorative power of nature, we don't unpick Keats' rainbow - that natural philosophy (as he would have called science) doesn't "clip an Angel's wings".