Risks of placing scientists 'on message'
By Pallab Ghosh
Science correspondent, BBC News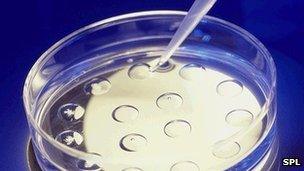 It is more than a little embarrassing for the Canadian government to be accused of "muzzling" its own scientists when it is hosting one of the world's largest scientific conferences in Vancouver.
The allegation made at the American Association for the Advancement of Science (AAAS) meeting is that there has been unprecedented interference by the Canadian government in the free flow of scientific information.
Speakers at the meeting talk of the government's actions as going beyond the general norms of news management on controversial research results.
The argument centres on the application of a media protocol set out by the governing Conservatives, shortly after their election in 2008.
The aim of the protocol, according to a leaked internal document, is to ensure that all messages from scientists are along "approved lines". The government's stated protocol is that ministers and senior civil servants should not be "surprised" by what they read in the newspapers.
Tight media management by government is nothing new. It is part of modern party politics to ensure that politicians are "on message". What is new though is the alleged application of these techniques to civil servants and in particular to government scientists.
The role of government research agencies across the world is to provide their governments with evidence-based information to inform policy on issues of public interest such as food safety, climate change and healthcare. The research is paid for from the public purse for the public good.
The allegation from the speakers at the AAAS meeting is that media relations officers are effectively stifling debate by making access to government scientists difficult if not impossible.
Science journalists in the US, UK and many parts of Europe also have to put requests to interview government scientists to media relations officers.
Not all interviews are granted, researchers are often unavailable or unwilling to speak to journalists and sometimes some reporters and their publications are deemed too specialist to bother with.
But in the main, government press officers do attempt to give reporters from mainstream media organisations timely access to their scientists.
The suggestion from speakers at the AAAS meeting is that Canadian media relations officials are thwarting dialogue with scientists when it does not suit the government's agenda.
One reporter told the audience that even when she had spoken to a scientist who said he was willing and able to do an interview, once she submitted the request through official channels she was told he was not available for interviews.
Sometimes it is not as obvious as a blank refusal from the media managers. Scientists other than the ones requested are sometimes offered for interview. Journalists are concerned that this is because they are likely to give less "surprising" answers which are, as the protocol puts it, "along approved lines".
On other occasions, written questions are requested and written answers are given in response: a process which doesn't enable a reporter to ask follow-up questions in order to get a proper understanding of the research and its implications. The requests themselves can take days to process, by which time the news value of a story might have gone.
So why should any of this matter?
If the Canadian media protocol for government scientists is seen to be effective in preventing ministerial surprises then governments across the world will want to follow the same procedures.
That, some argue, would act as a brake on the culture of debate that is necessary to develop effective evidence-based policies.
Government agencies exist to serve the public good and usually do. In theory, if they believe that an area of public policy is going badly wrong and have the evidence to prove it, they say so.
In the past, this has worked well, as with the impact of lead in fuel on child development, the causes and effects of climate change and - more recently - the harmful effects of excessive dietary salt on human health.
Science advisers can act as an independent voice within government to identify and challenge bad practice.
For research results to change policy, government scientists need direct access to the public in order to explain the policy implications of their work through the news media.
Without that, it would be tempting for governments to ignore research results that do not suit them.
The public understanding of science empowers individuals, enables an informed debate from which policy changes can spring - benefiting society.
Stifling the free flow of information about research findings might reduce ministerial embarrassment. But for the sake of good governance, it might be better if there were a few more surprises for ministers in the news media.