Prince Charles optimistic for fisheries' future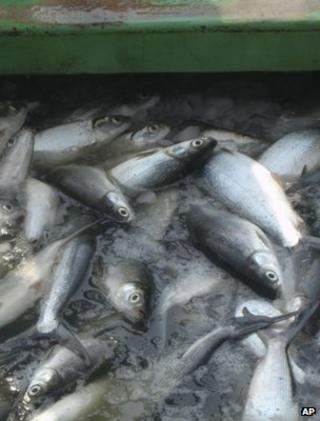 There are reasons for optimism about the future of the world's fish stocks despite their currently dire state, said the Prince of Wales at the launch of a report from his green think-tank.
Fisheries in Transition details 50 case studies of successful management in various parts of the world.
The prince said the issue was dogged by a "debilitating fatalism".
His International Sustainability Unit (ISU) is aiming to build constructive dialogue between industry and ecology.
The report is the first offering on fisheries from the ISU, which aims to continue the kind of work done by the Prince's Rainforest Project on a larger range of issues.
Speaking at Fishmongers' Hall in the City of London, the prince said it was "critically urgent" that countries find better ways of dealing with over-fishing and other marine issues.
"Oceans are becoming more acidic; run-off from industrialised farming is causing waters to become too rich in nutrient, thus creating dead zones in the oceans; waters are getting warmer, and more and more square miles of them are being polluted with plastic," he said.
"The human assault on the Earth's oceans is depressingly comprehensive."
The prince, and other speakers at the launch, compared the fishing situation to the current banking crisis.
"Just as the banking system is a public good on which we all depend, so are sustainable fisheries," said David Nussbaum, chief executive of WWF-UK.
"If fisheries collapse, who will bail out the oceans?"
Many scientific reports have highlighted the impacts of industrial fishing, which has reduced some species down to a few percent of their historical level.
And economists have pointed out that this has a significant economic penalty, with some stocks so depleted that commercial returns are way below what they should be.
A World Bank report several years ago said the global economy was losing about $50bn (£32bn) per year because of this depletion.
But the ISU report talks more about solutions than problems.
Through research and interviews with people in the trade, it documents 50 examples from the shores of every continent illustrating how once unsustainable fisheries can be turned around.
The Peruvian anchovy fishery - the world's largest - set quotas for the first time only three years ago.
Catches have fallen, but profits and wages have risen. Fishermen choosing to leave the industry have been given free training for new trades.
The crab fishery in the Bering Sea used to be regulated by limiting the overall quota - which meant every boat made a desperate scramble for its share, catching juveniles indiscriminately, flooding the market and seeing deaths every year as safety was compromised.
Switching to a system where each boat is guaranteed a catch share has improved safety, raised prices and seen a stock recovery.
Countries all over the Pacific have refused entry to commercial vessels from other countries, selling only a certain number of permits and using funds for education.
The report's overall conclusion is that by regulating the catch in a sensible way, fishermen make more money for less effort, and the stock is safeguarded against exploitation.
"We recognise that there is no 'one size fits all', solution, every fishery is different," said Charlotte Cawthorne, ISU marine programme manager.
She described the ISU's work, in part, as compiling a "toolkit" of measures that can be deployed to make fisheries sustainable.
Nevertheless, she said, three things were essential: scientific understanding of the ecosystem, funding for the transition, and sound management.
The next phase of the organisation's work will concentrate on specific aspects, notably how money can be leveraged to finance moves towards sustainable regimes.