More Galileo satellites ordered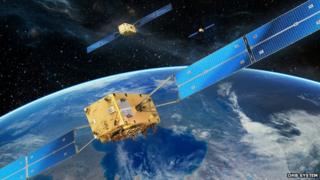 Europe's quest to create its own version of the American GPS system has taken another major step forward.
The European Commission has issued a contract worth some 255m euros (£210m; $330m) to a German-UK consortium to provide eight more spacecraft for its Galileo satellite-navigation network.
It takes the number of spacecraft now in production at OHB System of Bremen and SSTL of Guildford to 22.
It also keeps Galileo on course for completion later this decade.
The new contract was announced in London by European Commission vice-president Antonio Tajani, who has overall responsibility for the flagship EU space project.
Two other contracts were also signed that will make it possible to launch future Galileo spacecraft on Europe's big Ariane 5 rocket.
"The new contracts reflect the decision of the commission to move ahead with this project at a fast pace," the EC VP said.
"With today's announcements, we are creating the conditions to start offering initial Galileo services in 2014."
To get the order, OHB System and SSTL had to beat off competition from Europe's biggest space company, Astrium. The consortium's win follows its initial contract victory in 2010 for 14 operational satellites.
SSTL's part in the project is to prepare the satellite payloads - the "brains" of the spacecraft - before shipping them to its German partner where they are integrated with service and propulsion modules ready for flight.
"The two contracts together mean 22 payloads, so it really is a lot of work," explained Sir Martin Sweeting, the executive chairman of SSTL.
"We've just recently commissioned a new technical facility in Guildford that allows us to prepare these payloads for launch alongside about eight other satellites for Earth observation and communications."
The EC is investing billions in its sat-nav project. It believes Galileo will bring significant returns to EU-bloc economies in the form of new businesses that can exploit precise timing and location data delivered from orbit.
Galileo's next-generation technologies are designed to provide users with quicker, more reliable fixes, enabling them to locate their positions with an error of one metre, compared with the current GPS error of several metres.
GPS already underpins a great swathe of activity with many uses that are unseen and unsung, such as the timing signal's widespread role in synchronising telecommunications systems and major financial transactions.
Galileo, once complete, is likely to have 30 satellites in orbit - but securing the last few will require another round of procurement by the EC.
Its first two spacecraft, launched in October, were developed by Astrium. These are "pathfinder" units which, together with another pair due for launch later this year, will prove the Galileo system works end-to-end - from the satellites in the sky to the complex control systems on the ground.
The 22 OHB-SSTL units will then be required to populate the constellation, to provide global coverage for the multitude of users with sat-nav receivers in their vehicles and mobile phones.
The first of these so-called Full Operational Capability (FOC) spacecraft is expected to come off the production line later this year.
A contract to launch the bulk of the initial 14 OHB-SSTL satellites has already been placed with French firm Arianespace, using its Russian-built Soyuz rockets that fly from the Kourou spaceport in South America.
But Mr Tajani announced at the London event that he would also be purchasing additional launch capacity from Arianespace.
A 30m-euro "booking fee" is to be paid to Arianespace to secure the services of up three Ariane 5 rockets, which can loft four satellites at once (two more than Soyuz).
But for this to happen, the rocket will need a special adapter to dispense the spacecraft in orbit, and an additional 30m-euro contract was signed with Astrium, the launcher's prime contractor, to develop the required equipment.
"For the first 26 satellites, we expect now to have them in orbit by end of 2015," said Didier Faivre from the European Space Agency (Esa), which is acting as the EC's procurement agent on the Galileo project.
"With the Ariane 5, if we can launch one in 2014 and two in 2015 - this all becomes feasible.
"From then on, it takes approximately 2.5 to three years from contract signature to delivery of the satellites, so depending on the date we have Work Order No 3, you can work out for yourself [when we will have 30 in orbit]. But with 26 satellites, we will have all the different Galileo services available," he told BBC News.
The EC is unlikely to be in a position to fund another work order for satellites or rockets until the next EU budget perspective (2014-2020) is introduced.
Jonathan.Amos-INTERNET@bbc.co.uk and follow me on Twitter