Winner in satellite image contest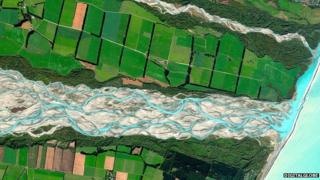 An image of the ribbon-like Rakaia river in New Zealand has won an online vote for one company's best satellite image of 2011.
The river, shown in March 2011, runs for about 150km to the Pacific.
Commercial satellite imaging firm DigitalGlobe invited Facebook users to choose its best image of last year.
The picture of the twisting river beat other striking images of Ground Zero in New York, and Palm Island, Dubai, to claim the top spot.
Another satellite imaging company, GeoEye, has also published a 2012 calendar made up of its top images from last year.
DigitalGlobe encouraged users to vote on 20 of its images from last year. This was whittled down to five at the beginning of January; the winner has just been announced.
In addition to the photos of Ground Zero and Palm Island, the original choices included a satellite photo showing the space shuttle Atlantis being moved out of its assembly building in Florida for its final mission.
GeoEye's images include a photo of unusual, tree-like sedimentary formations in the Gulf off Qatar and a shadow cast on the ground by the Gateway Arch in St Louis, Missouri, which is considered to be the tallest man-made monument in the US.
A French high-resolution imaging satellite, named Pleiades, was launched in December. Its manufacturers are expecting it to go head to head with both GeoEye and DigitalGlobe in the satellite imaging market.