Former astronaut to lead starship effort
By Sharon Weinberger
Science reporter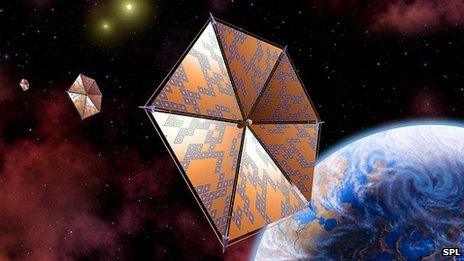 The Pentagon's premiere research agency has chosen a former astronaut to lead a foundation that is designed to take humanity to the stars.
The Defense Advanced Research Projects Agency (Darpa) and Nasa are sponsoring the project, known as the 100-Year Starship.
Mae Jemison, the first African-American woman to go into space, was notified last week that she had won, according to a copy of a Darpa letter obtained by the BBC.
Since leaving Nasa, Jemison has been involved in science education programmes, and is known as a space travel enthusiast and long-time Star Trek fan.
Her organisation, the Dorothy Jemison Foundation for Excellence, is partnered on the Darpa project with Icarus Interstellar, a non-profit organisation that is dedicated to interstellar travel, and the Foundation for Enterprise Development.
Since it was first announced last year, the 100-Year Starship project has been met with trepidation by some, and excitement by many.
With Nasa scaling back its manned space programmes, the idea of a manned trip to the stars, which is well beyond any current technology, may sound audacious.
But the goal is not to have the government fund the actual building of spacecraft destined for the stars, but rather to create a foundation that can last 100 years in order to help foster the research needed for interstellar travel.
The money for the winning team, $500,000, is small, but is designed to help jumpstart the effort. According to a copy of the notification letter, Jemison's proposal was titled: "An Inclusive Audacious Journey Transforms Life Here on Earth & Beyond".
A spokesman for Darpa declined to comment on the award, which has not been publicly announced.
Related Internet Links
The BBC is not responsible for the content of external sites.