UN climate talks 'approaching decision time'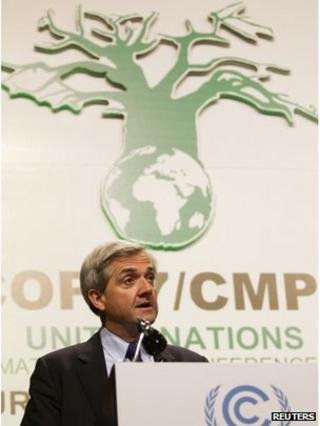 The UK Climate Change Secretary says UN climate talks are at a crunch point.
On the final morning of talks in Durban, Chris Huhne said countries must decide whether they want a treaty that can really curb global warming.
The EU has made an ad-hoc alliance with some of the world's poorest nations to push for a strong deal here.
Ministerial talks overnight made little concrete progress, with big-emitting countries sticking out for a new deal that would take effect only after 2020.
That is too late for the Least Developed Countries (LDCs) and the Alliance of Small Island States (Aosis), who both say talks must begin in January and conclude at the end of next year.
No big new treaty is going to be agreed at this meeting. What the LDCs, Aosis and the EU are seeking is a firm timetable - a mandate - leading to a new treaty.
In informal overnight discussions, ministers from the powerful BASIC group - Brazil, South Africa, India and China - held the line that talks should not begin before 2015, and should only take effect when current pledges on reducing emissions expire in 2020, sources said.
However, sources also indicate that India's Environment Minister Jayanthi Natarajan did not attend the overnight talks.
"We're reaching the point at which a number of delegations have got to decide whether they want to get a treaty with real environmental integrity or not," said Mr Huhne.
"There's now a very visible high-ambition coalition that stretches across the developed world, in Europe, and the developing countries, and the real issue is whether those that have been reluctant to join in with high ambition are prepared to do so."
Game of halves
On Thursday, Brazil's Environment Minister Izabella Teixiera told BBC News she was flexible on some elements of the proposed mandate.
The US - which has been widely accused of blocking tactics - also said it supported the EU concept of a "roadmap", but gave few extra details.
Aosis ministers had already questioned the validity of that statement - and in somewhat acerbic mood, Mr Huhne commented: "One of the key things is to look in detail about what people are prepared to do on the page as opposed to what they're prepared to say to the television cameras."
There has been little word from inside the Chinese or Indian camps as to how they currently see the negotiations.
Connie Hedegaard, the EU Climate Commissioner, suggested that of the four BASIC countries, Brazil and South Africa were showing much more flexibility than the Indians or Chinese.
Climate change glossary
Select a term to learn more:
Adaptation
Action that helps cope with the effects of climate change - for example construction of barriers to protect against rising sea levels, or conversion to crops capable of surviving high temperatures and drought.
"We have the half the BASIC group - we are now waiting for the other half," she said.
In what may be a reflection of that, campaigners have even developed a new acronym for the three-nation bloc they believe now stands in the way of a strong agreement - USIC.
Tosi Mpanu Mpanu, speaking for the African Group, said he believed ordinary Americans were not "the problem" - instead, it was "special interests", he said.
"I don't know how many Congressmen have a passport, I don't know if they travel to Africa - maybe if they travel to Africa they wil understand what this climate change phenomenon is all about," he said.
"If they only travel from Washington to Colorado, of course they're not in touch with what happens abroad."
Mr Mpanu Mpanu elaborated slightly on his earlier statements that the talks were seeing "chequebook diplomacy".
"Some people are telling us 'we don't want the Kyoto Protocol to continue, we want to get out, and look at all the money we are putting on the table for fast-start [finance]'."
But he declined to name names.
Alden Meyer from the Union of Concerned Scientists described the EU/LDCs/Aosis as "a significant development" of the type that led to endorsement of the Kyoto Protocol in 1997.
"We have never seen progress in these negotiations unless there is a progressive coalition of leaders from developed and developing countries who want action," he said.
The remaining obstacles in the negotiations are serious, but several observers described the mood as constructive.
Few are willing to bet on an outcome, apart from on the point that talks will continue long into Saturday morning.
Follow Richard on Twitter