Canada wins few friends on climate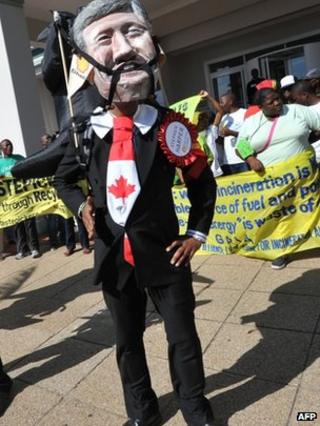 Over the years, the US has become used to being portrayed as the chief villain in UN climate negotiations.
Think of Congress's immediate declaration that it would not ratify the Kyoto Protocol in 1997 even before the ink on the document had dried.
Think of President George W Bush's withdrawal in 2001, and the famous scene on the final morning at the Bali talks four years ago, when the US delegation was told that if it would not lead, it should at least get out of the way.
After the brief love-in engendered three years ago by President Obama's pledge to renew US leadership on climate change, it's back to business as usual, with the Obama administration either unable or unwilling to take on a truculent Congress, especially with a presidential election approaching.
What's changed is the additional opprobrium that campaigners and delegations anxious for a deal here are pouring on the US's northern neighbour, Canada.
There are two reasons why; and they are interlinked.
One is the government's stance on its Kyoto Protocol target of reducing greenhouse gas emissions between 1990 and 2012.
The declaration back in 2007 that it wouldn't try to meet the target has been followed by the widely-circulated rumour that it is about to withdraw formally from the protocol.
The second reason is tar sands - the vast deposits of bitumen in the west of the country that promise to sustain Canada's status as an oil producer for decades to come.
Extracting something useable from tar sands, or oil sands as they're also known, takes substantially more energy than extracting "conventional" oil.
That means substantially bigger greenhouse gas emissions.
The accounting is precise; but in broad terms, extensive tar sands development would not be compatible with continued adherence to the Kyoto Protocol.
In recent years, the approach of Stephen Harper's government has been to align its position on climate change as closely as possible to the US.
Its pledge to the UN climate convention (UNFCCC) under the Copenhagen Accords in 2009 even cites the US as a model: by 2020, to cut emissions from 2005 levels by "17%, to be aligned with the final economy-wide emissions target of the United States in enacted legislation".
In other words, whatever the US does, we'll do.
While it's unusual for any country to let its neighbour decide its policies, from a trade point of view, it's completely understandable.
The US needs oil, and - at least officially - doesn't want to buy so much of it from the Middle East.
Canada has oil.
The US will probably need to explore novel sources of fresh water in the near future, with rivers in the southwest extracted beyond sustainable limits and with climate change threatening to push them further into the red.
Canada has fresh water in abundance, and engineers have already proposed massive engineering projects to pipe it to the east and west coasts of the US.
Throw in timber and food - especially as climate projections largely show conditions for agriculture improving in Canada even as they worsen in the southern US - and it's clear that Canada can in large part supply what the US needs in future.
Whatever the economic logic, the Canadian attitude is winning few friends at the talks here.
While other delegations hold news conferences in the main venue that are open to all reporters, Canada's have been held in an off-site hotel on an invitation-only basis.
When Environment Minister Peter Kent delivered his set-piece speech in the plenary hall, he was greeted by a group of six young activists wearing "Turn your back on Canada" shirts.
They were ejected and barred from the conference as a result. But not before one of them was able to claim that while the minister was on record as saying he would defend the tar sands industry, "I have yet to hear him say that he's here to defend my future".
In the Canadian press briefing I went to Mr Kent twice described the tar sands industry as "responsible and sustainable" - a phrase that garnered a fair amount of comment when I tweeted it.
Elizabeth May, leader of the Canadian Green Party and its one green MP, later came down to the BBC booth for an interview on World Service radio.
In previous years, she said, opposition MPs had been allowed on the Canadian delegation to UN climate meetings.
Here, she'd been refused; which was why she was wearing the badge of Papua New Guinea.
Given that Canada produces less than 2% of the world's greenhouse gas emissions, you might ask why it matters.
One reason is that countries that produce and export significant amounts of fossil fuels are more important to climate change than their own emissions would indicate.
It is their exports that the rest of the world burns.
Their opposition to global climate change agreements keeps the prices of their energy exports low against "green" competitors such as wind and solar, reducing economic incentives to conserve, especially when subsidies are taken into account.
The second reason is trust. Canada pledged internationally to meet its commitment on the Kyoto Protocol, which was supposed to be legally binding.
As one African delegate explained it to me: "if you make a legally-binding promise, you should keep to it".