Nepal pipes biogas expertise abroad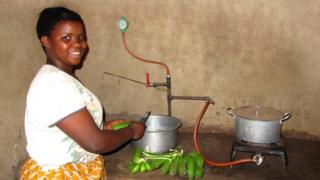 Having emerged as one of the pioneers in producing biogas from cow dung, the Himalayan nation of Nepal is now successfully transferring its technical expertise to other countries.
Several Nepalese experts have been travelling to countries in South East Asia and Africa to introduce the "clean", homegrown technology that helps reduce carbon emissions from fossil fuels and saves forests.
Biogas from cow dung is mainly used for cooking in rural areas and also for lighting houses.
Renowned for displacing choking smoky ovens with clean cooking stoves, the Nepalese model of biogas has won the prestigious Ashden award.
The Biogas Partnership Project Nepal, a collaboration between the government, donors and non-governmental organisations, has already installed plants for nearly 300,000 households across the country.
The project says it helps reduce 7.4 tonnes of greenhouse gases per household per year and protects 250,000 trees during the same period of time.
And the expertise gained over the years has benefited many communities in different developing and least developed countries including Cambodia, Laos, Vietnam, Indonesia, Bangladesh, Bhutan, among others in Asia and around 10 countries in Africa.
"Nepal was the pioneer in the development of this technology and now it has also been successful in sharing its technical expertise to many countries," says Rem Neefjes, the country director of SNV, the Netherlands government's development agency, a major donor in biogas projects in many countries.
"The success in Vietnam in particular has been outstanding; more than 100,000 biogas plants have been installed there."
Installations are growing in Indonesia too and the technology there has even been named "the Nepal model".
"They call it so because they know that it has been tested and proven in Nepal all these years," says Sundar Bajgain, a Nepali biogas expert now based in Jakarta to help Indonesians with the technical expertise.
In several African countries, Nepalese experts are not only helping the communities install biogas plants but are also conducting training in schools.
Theoneste Kaneruka was a simple mason in the northern province of Rwanda until three years ago.
"Then I heard about the biogas business, and after sessions of trainings and certification with the National biogas program, the SNV Rwanda team and the expert from Nepal, Prakash Ghimire, I started my own company.
"We now build 20 to 25 biogas plants in a month."
But transferring their expertise to foreign countries has not always been easy for Nepalese experts.
"It becomes more challenging when you are working in a country that is quite familiar with Nepal and its socio-political situation," says Mr Bajgain.
"In Bangladesh, for instance, it was a bit difficult in the beginning because many in that country know about the unstable political situation in Nepal and the setbacks in development works.
"So naturally it was hard for them to readily trust our capability, but in due course of time we proved that we were worth it."
Wim J van Nes, renewable energy network leader of SNV, is well aware of the differing local circumstances.
"It is important to stress that every country has its own context and the success of the programme is dependent on different technical, financial, organisational, institutional, political and socio-cultural factors," he said.
"Despite this, the BSP [of Nepal] was regarded as an inspirational example and many stakeholders from other countries made a visit to Nepal not only to witness biogas households but also to learn from key stakeholders how the sector had been developed."
One of BSP Nepal's biogas experts, Indira Shakya, says: "On one occasion, we had just arrived in Ethiopia and locals there were already complaining that the biogas plant they had installed was not working.
"They were asking how come the technology worked in a 'cold' country like Nepal while it was not working in their country that was so warm.
"So we went to the site to investigate and found that they had been using dry cow dung that cannot produce the gas. When we successfully demonstrated the technology with fresh dung, their faces lit up."
The technology is quite simple and natural: bacteria that comes with the dung from a cow's stomach break down the waste in an underground air-tight digester.
In the absence of oxygen, the mixing of cow dung with water leads to a reaction that produces a gas comprising up to 70% methane with the remainder being carbon dioxide.
The digested slurry flows to an outlet tank and ends up in the compost pit, while the gas is tapped from the top of the dome with a pipe that ends in the burner of the kitchen stove.
Until the last decade, the technology was largely confined to the rural areas of Nepal. Now it has travelled with Nepalese experts far and wide.