Drought fears after low winter rain levels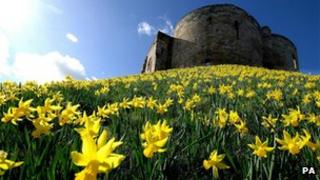 The drought that has affected parts of England since June will last into next summer if there is insufficient winter rain, the Environment Agency has said.
Environment Secretary Caroline Spelman says water companies need to prepare now for the possibility.
Anglian Water has been granted a permit to pump water from the River Nene into one of its reservoirs on Thursday.
A lack of rainfall over the past few months means that groundwater levels are still falling in many areas.
The Environment Agency, which covers England and Wales, says that even if there is average rainfall over the winter and spring, parts of central, eastern and south-eastern England are unlikely to see a full recovery from drought conditions in 2012.
Trevor Bishop, head of water resources at the Environment Agency, told BBC News: "There are people putting up Christmas decorations in homes and businesses down the road and we're standing here in December talking about drought and that's an unusual situation.
"The ground below our feet is still dry, and at this time of year we would expect it to be fully saturated and the rainfall helping to replenish supplies, ready for next year."
Water companies in the worst-affected areas are having to use more river water to top up reservoirs that should really be seeing far more rain at the moment.
Anglian Water has been granted permission to pump up to 17 million litres a day until next March into its Pitsford Reservoir, which supplies around 600,000 customers in the Northampton area.
South East Water has applied to the Department for Environment, Food and Rural Affairs (Defra) to increase the amount of water it abstracts from the River Ouse.
It says it has carried out comprehensive environmental studies to make sure any impacts on the river are minimised.
Lee Dance from South East water said: "Faced with a worsening drought situation, and with no sign of significant rainfall, and customer demand for water continuing - it is vital we take immediate steps to protect Ardingly Reservoir and our customers' water supplies."
The government says water companies, businesses, farmers and the public in the areas that have seen the driest conditions need to plan now for next summer.
"This is a signal for everyone to get prepared, that if we don't get good rainfall this winter it will be a challenge next spring and summer," warned Environment Secretary Caroline Spelman.
The Environment Agency will carry out a further assessment on the likelihood of a continuing drought early next year.
A spokeswoman for the Scottish Environmental Protection Agency said Scotland had had plenty of rain in recent months and were not expecting any problems.
Northern Ireland Water said their reservoir levels were "satisfactory for this time of year" and they had no concerns.