Durban: The early skirmishes
Richard Black
Former environment correspondent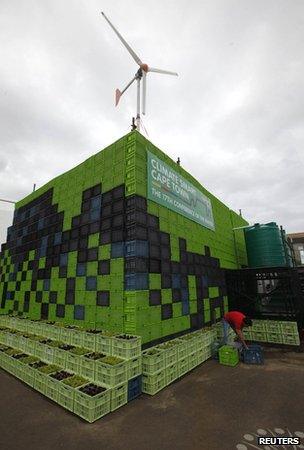 Like stags fighting, the first days of each annual UN climate summit start with delegations circling each other politically, looking for weaknesses, gauging strengths.
The summit that began this week in Durban, South Africa, has been no different - and though it might seem that little has been accomplished so far, a number of blocs have at least made their positions clearer than ever before.
And that's vital if effective negotiations are ever to happen.
A Japanese diplomat recently showed me a chart he'd drawn up where the positions of various countries and blocs were marked on a two-dimensional grid.
One axis showed how keen they were on taking more emission cuts under the Kyoto Protocol (KP), the other how keen they were to see negotiations begin on a new global instrument covering emissions by all nations.
Japan itself sits at one diagonal extreme - very keen to get cracking on a new agreement, very unkeen on more cuts under the KP. Russia sits alongside.
At the opposite extreme is the powerful Basic bloc - Brazil, South Africa, India and China - very keen on seeing Japan and its rich counterparts get fully back inside the KP, not keen on starting talks on a new agreement.
Small island states want a bit of both; the US and Canada want neither.
Other observers might put the names in slightly different places on the paper - South Africa, for example, has spoken up during the opening exchanges for the vulnerable nations of Africa and appears to be diverging somewhat from the other Basics.
But in essence, it's correct, and a simple yet effective way of plotting out the political landscape.
A number of developing countries believe there's no place for a new mandate leading to a new global agreement, because the world should still be working on the mandate agreed at the Bali summit four years ago.
"I exchanged views with my European colleagues before I came here and told them very clearly that a mandate is too much," Li Gao, a senior Chinese negotiator, told the AFP news agency.
Climate change glossary
Select a term to learn more:
Adaptation
Action that helps cope with the effects of climate change - for example construction of barriers to protect against rising sea levels, or conversion to crops capable of surviving high temperatures and drought.
"We are still on the process of the Bali Roadmap. If we still have not finished, what should we do? We can't talk about something new, this is not a good way to proceed."
So it must be doubtful that UK Climate Secretary Chris Huhne and his EU allies will leave Durban having secured the agreement they want to start work on a new global deal.
Come next year's meeting, they'll be in the last chance saloon for deciding their KP approach, as the meeting will take place just a few weeks before the protocol's current targets expire at the end of 2012.
If the EU wants to begin talking about a new global deal, maybe the price will be to keep the KP going.
Whether that gets the Basics on board with a new mandate given that Japan, Russia and Canada will not be taking the KP route is another matter.
If not, the talks won't begin - period.
What has been highlighted yet again is the disjointed nature of many governments' approaches to energy and climate issues.
The past and the present abound with instances where the right hand is trying to do something to restrain emissions while the left does something in a completely different context to boost emissions.
So the UK, for example, has been slammed by campaigners over its behind-the-scenes lobbying on Canada's oil sands - a fuel that if it is exploited on a big scale will mean "game over for the climate", according to US climate scientist James Hansen - while lobbying for constraints on emissions in Durban.
And the latest example comes in the form of a report from a coalition of campaign groups on banks' sustained investment in coal.
The BankTrack network attempted to unravel just how much leading banks are putting into mining coal and using it to generate electricity.
Its report covers 93 leading banks, 31 major coal producers (accounting for almost half the global total) and 40 companies running coal-fired power stations (more than half the global total).
The combined investment in coal from these banks amounts to 232bn euros (£199bn, $309bn) since 1997 - the year of the Kyoto Protocol's birth.
Part of the campaigners' strategy is to "name and shame" the banks involved. JPMorgan Chase, Citigroup and the Bank of America head their list, with more than 10bn euros invested each in coal, according to the group's calculations.
But maybe there's a bigger issue than dissecting out the individual players.
As Heffa Schuecking of the German campaign group urgewald puts it: "If banks provide money for these projects, they will wreck all attempts to limit global warming to 2C."
So is it consistent for governments aiming for tight curbs on greenhouse gas emissions to allow banks to make such big investments in coal - especially when the G20 has pledged to end fossil fuel subsidies?
There will be arguments that in the poorest countries, the benefits of development through cheap coal outweigh the climate damage of its sustained use; but not in most.
If you're a government that doesn't profess a desire to constrain carbon emissions, then it makes perfect sense to allow banks operating on your territory to make these coal investments.
But that's not what the governments assembled in Durban are saying; officially, they all see climate change as a problem and want to constrain it, via binding international agreement or not.
And there is an argument for saying that real progress on climate change will only happen when governments are determined to use all the tools they have to constrain emissions, rather than - as now - using different hands to move the levers in opposite directions.