Chancellor gives £200m to science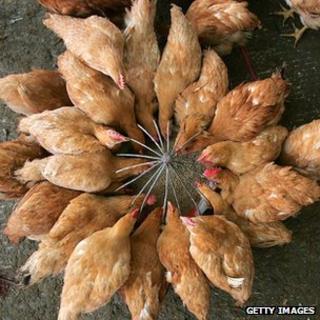 Chancellor George Osborne has announced an extra £200m for science in his Autumn Statement.
A large slice of the money (£80m) will fund a new laboratory complex in Surrey run by the Institute for Animal Health.
There is cash also for high-performance computing and for a range of technology demonstrations, including £21m to start an innovative space radar project.
Science advocates welcomed the news but said it had to be placed in the context of a stagnating research budget.
The emphasis in the chancellor's funding announcement fell primarily on infrastructure.
The IAH is already expanding its facilities in Pirbright to include a world-class containment laboratory to work on large-animal diseases.
The new allocation will go on next-stage development of a centre to investigate avian diseases, such as bird flu, which can have major economic consequences when they spread through flocks, not to mention the potential health hazards they can sometimes pose to humans in contact with affected animals.
The money will pay for the larger part of the project, with the Biological Sciences Research Council finding the additional £20m-plus from within its own budget.
Other promises of extra money include:
£61m for a range of essential science base infrastructure capital projects
£25m for technology demonstrations in areas such as low-carbon vehicles
£21m to kick-start an innovative space radar project for Earth observation
£13m for the future Archer supercomputing service to model drugs and climate
The Minister for Universities and Science David Willetts said: "This new £200m capital investment in science is excellent news for our research base and our economy, and takes the total additional science investment since the budget to almost half a billion.
"It will ensure we maintain our leading position in research, providing cutting-edge new facilities and vital infrastructure. It also underpins important industrial sectors and will unlock private investment in new products and services, driving growth and creating high-tech, highly-skilled jobs."
'Words into action'
Campaign and advocacy groups applauded the chancellor's offering, but said he still had much to do to rectify the inertia imposed on the research base by the government's decision last year to freeze in cash terms the £4.6bn annual science budget.
The Campaign for Science & Engineering (Case) has calculated that this policy would amount to an effective cut of £1.7bn by the time the current spending period ends in 2014-15 - a figure that would be even larger once inflation during that period was taken into account.
"Politicians of all stripes keep talking about 'rebalancing the economy' and moving towards high-tech manufacturing instead of relying on consumer debt - David Cameron discussed it at the Science Museum this month," said Case director Imran Khan.
"These words have to be turned into action, so it's really encouraging for the UK economy that last year's cuts are being slowly reversed - investment in science and engineering is vital if we're to achieve sustainable growth.
"We now need to see a genuine strategy from our political leaders about how we're going to put science and engineering at the heart of our economic recovery."
Sir Paul Nurse, president of the Royal Society, added: "This additional £200m for research infrastructure is good news.
"We have world-class scientists and they need world-class places to do their work - you would not keep a Da Vinci in a garden shed.
"The repeated references to science and innovation in the chancellor's speech show a commitment to science and engineering being the basis for a sustainable economic recovery but it will only happen if we are willing to invest heavily, like many of our competitors.
"Today's announcements must be the start of that additional investment rather than just a one off."