Healthy woodlands 'need quality not quantity'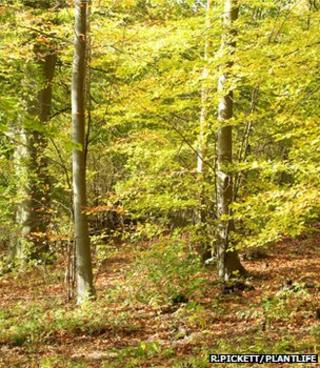 There needs to be a greater focus on woodland management rather than just paying attention to the number of trees being planted, a report has concluded.
Conservation group Plantlife said although there were now more woodlands in England than 20 years ago, many of the habitats had become overgrown.
Ground-level plants were struggling because canopies had closed over and reduced much needed light, it added.
Management techniques like coppicing needed to be put in place, it advised.
"We're living in a time when everyone is rushing to go out and plant trees," said co-author Andy Byfield, Plantlife's landscape conservation manager.
"For example, there is a government target to plant 10,000 hectares of trees each year for the next 15 years."
He told BBC News: "While in some ways that is good, we are saying that it is quality, not quantity, that matters.
"We believe that we need to see better management for the nation's woodlands, rather than just creating more dull woodlands."
The report, Forestry Recommissioned: Bringing England's Woodlands Back to Life, listed a range of solutions to tackle what the authors viewed as the main problems facing the nation's existing woodlands:
Too dark - increased coppicing and pollarding to allow more light to reach the ground-level plants, with the coppiced or pollarded wood being used as a fuel source;
Overgrown - reintroduction of grazing stock in woodlands, which would limit the growth of coarser plants - such as nettles and brambles - and allow a more diverse array of flora to become established;
Silent - establishing management systems would encourage and sustain enough biodiversity, resulting in robust food chains - from plants and invertebrates to predatory birds and mammals.
Mr Byfield observed: "The mindless planting of trees anywhere in the landscape is not going to do a huge amount for wildlife.
"We think there needs to be an equal focus on getting management back into woodlands."
He said that from about the time of World War I, there had been a move away from woodlands being managed and producing a range of goods - from charcoal and poles to animal bedding and fodder - to the habitats being largely unmanaged and not utilised.
"Before about 1950, half of our woodlands were either coppice or scrub, the other half was high forest- where trees grow to their maximum height," he added.
"What we now have is a situation where something like 97% or 98% of all woodlands are high forest, the canopy has grown over and plants do need light to survive."
As a result, Mr Byfield said: "We are seeing that the colour of woodlands is just disappearing as they get ever darker.
"This is affecting a number of woodland flowers, such as wood anemones, primroses, violets, and to a lesser extent, bluebells.
"It is flowers like primroses and violets that are food plants for creatures like butterflies in the woodlands.
"If we are losing the ground flora and then you start getting a reduced diversity of insects, then there are less insects to feed the birds, and so it goes on."
Joined-up thinking
He called for "intelligent planting" in targeted areas, for example linking ancient woodlands that had become fragmented because specialist plants found in this habitat found it difficult to spread elsewhere.
"It is unlikely that the woodland plants will be able to become established in newly planted woodlands that are located in previously open landscape.
"Like all other habitats, woodlands have been fragmented over time and we do need to build good, solid, sustainable chunks.
"But we should be doing that where there is ancient woodland and where we are linking and building up around the ancient woodlands," Mr Byfield suggested.
"Then we have got the best chance, in the longer term, of woodland plants and animals colonising these sites."
Responding to the report's findings, Woodland Trust policy director Hilary Allison said: "We agree that to help wildlife, we must protect and restore the woods we have."
But she added that new native woodlands were also needed.
"The two are not mutually exclusive; in fact, creating new native woodland in the right places could expand existing woods of high conservation value, giving their wildlife a better chance of survival," she told BBC News.
"We should also not forget there are other good reasons for planting more woodland, including the many wider benefits they deliver, such as recreational access and the shaping of more attractive places to live and work , and other 'ecosystem service' benefits - such as flood control, and improving air and water quality."