Should engineering prize compete with Nobels?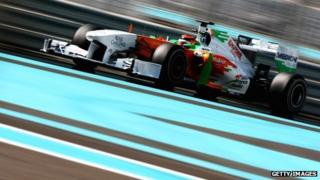 The million pound Queen Elizabeth Prize for Engineering, announced on Thursday at the Science Museum in London, is a global award which aims to, "to identify and celebrate an outstanding advance in engineering that has created significant benefit to humanity".
It's part of a long tradition of using prizes to reward and encourage innovation.
Speaking at the launch alongside Deputy Prime Minister Nick Clegg and Labour leader Ed Miliband, Prime Minister David Cameron pointed out how previous prizes helped create new technologies.
The Prime Minister mentioned the Longitude prize offered in the 1700s for a system for reliably measuring longitude at sea, essential to marine navigation. The prize was eventually awarded to clockmaker John Harrison.
Peter Diamandis, the founder of the influential X Prize, also believes challenges like the Longitude prize can encourage innovation.
The Ansari X Prize offered a $10m (£6m) award for the first team to build a private spaceship that could launch three people to one hundred kilometres altitude and then repeat the feat within two weeks.
The prize was won in 2004 by the SpaceShipOne vehicle, incorporating technology that is now used by Virgin Galactic.
Clear goal
The X Prize was originally announced in 1996 under the Gateway Arch in St Louis as a tribute to Spirit of St Louis pilot Charles Lindberg. He won the $25,000 Orteig prize for his 1927 non-stop flight from New York to Paris.
According to Peter Diamandis, prizes tap into our love of competition: "Humans are genetically evolved to compete," he told BBC Radio 4.
"The idea of giving people a clear goal is something that is inspiring."
The X Prize Foundation works to design launch and fund very large incentive competitions, not just aimed at space technology, "they are an extraordinary means of driving breakthroughs", Diamandis said.
The Foundation has opened a number of other X Prizes, for example The Archon Genomics X Prize "will award $10m to the first team to rapidly, accurately and economically sequence 100 whole human genomes to a level of accuracy never before achieved".
And next year they hope to launch "a tricorder" X Prize for anyone who can develop a hand-held medical tool, in the spirit of the device made popular in Star Trek. This would be able to diagnose a patient "better than a team of certified doctors", Diamandis says.
Other organisations have also found prizes useful, The Defence Advanced Research Projects Agency (Darpa) - the main research and development wing of the Pentagon - ran a series of competitions to develop robotic vehicles capable of driving and navigating by themselves.
Businesses have also been making use of prizes to encourage technical innovation.
Inspiring the young
Online film company Netflix offered a million dollar prize in a competition that "sought to substantially improve the accuracy of predictions about how much someone is going to enjoy a movie based on their movie preferences".
Peter Diamandis believes that prizes which are awarded for completing specified challenges, while not appropriate for every problem, can often achieve more than "recognition prizes" like the Nobel Prizes.
Such prizes, reward people, "for work they did sometimes 20 or 30 years ago, so I don't see how that is going to drive new behaviour", Diamandis said.
But Professor Sir John Beddington the UK government's Chief Scientific Adviser said that criticism did not apply to The Queen Elizabeth Prize for Engineering.
He told BBC Radio 4 that "there are obviously merits in having prizes to solve a particular problem" but he said many of the challenges facing humanity in the 20th Century would require a broad cross-disciplinary approach. He also added that he hoped the prize would "inspire" engineers young and old to try and tackle big problems.
And those supporting the prize, which include some of Britain's biggest companies, also hope it will increase enthusiasm for engineering in the UK, celebrating achievements of more recent vintage than John Harrison's marine chronometers.